Spring Cleaning: A Room-by-Room Guide
Was this helpful?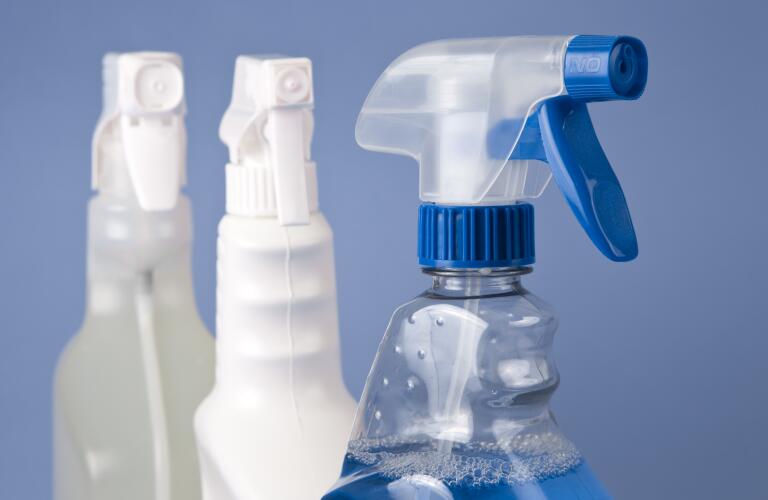 Spring cleaning gives you the chance to start a new season with a fresh slate. If you have allergies, it's also a time to banish symptom-causing dust, dander, and mold from your home. Here's how to tackle the project room-by-room—and do it with fewer sniffles and sneezes along the way.
Start with the Right Tools
Always use a damp rag or mop. Brooms or dry cloths merely stir up allergens. Choose a vacuum cleaner with a HEPA filter or a double-layered microfilter bag. This ensures that allergens are sucked up and stored safely.
If you're sensitive to commercial cleaning products, consider making your own. Mix 2 cups very hot water, 2 cups vinegar, 2 cups borax, and ½ cup salt. Apply and let sit for half an hour. Then reapply, scrub with a soft brush, and rinse with water.
A dust mask or respirator can make breathing easier during tough cleaning tasks. Choose one rated N95 by the National Institute for Occupational Safety and Health.
Your family may gather here to read and watch TV. Meanwhile, dust mites and pet dander gather on upholstery and in carpets.
Wipe down furniture, walls, and floors with a damp cloth or mop. Steam-clean your carpets. In a recent study, a combo of steam cleaning followed by vacuuming reduced dust mites for eight weeks. Better yet, replace wall-to-wall carpeting with hardwood or tile floors.
If you've chosen washable window treatments, launder them according to the manufacturer's instructions. Consider replacing heavy curtains or blinds with easy-to-clean materials, such as shades. Otherwise, wipe them down with a cleaning product that says it deactivates allergens.
Moisture makes the bathroom a haven for mold and mites. But thorough scrubbing and regular inspection ensure they won't have a hold on your life.
Clean and disinfect all surfaces. Make sure you open a window or run the exhaust fan while you're working. Odors and fumes from cleaning products can linger after you're done, so stay out of the room for at least 20 minutes once it's spick-and-span.
Check for leaky faucets and pipes, which can lead to mold down the line. If you spot mold growth, scrub it off with detergent and water. Don't use chlorine bleach to kill it; dead mold can still trigger allergies.
On average, you'll spend one-third of your life in the bedroom. Getting rid of dust and dander there can help you sleep more easily.
Remove books, knickknacks, and stuffed animals from beds, nightstands, and tables. Place them in boxes or other containers. And discard any straw baskets or dried flower arrangements; they double as dust traps.
Do a deep-clean of all bedding. Soak sheets, pillowcases, and blankets in warm water, detergent, and bleach for four hours before washing. Then, wash with laundry detergent and hot water—at least 130 degrees Fahrenheit.
Don't let roaches, and their allergy-triggering droppings, encroach on your family's eating space. Regularly empty trash and recycling bins. Make sure all your food is stored in closed containers. If you spot any cracks in walls, windows, or doors, seal them up. Check any roach traps, and set down new ones if needed. Place them along the walls and in the cabinets and pantry.
Moisture breeds mold and mites in the kitchen, just as it does in the bathroom. If you see wet spots, clean them up immediately. Inspect under and around the sink and quickly repair any leaks.
Was this helpful?