Finding Alternatives to EpiPen
Was this helpful?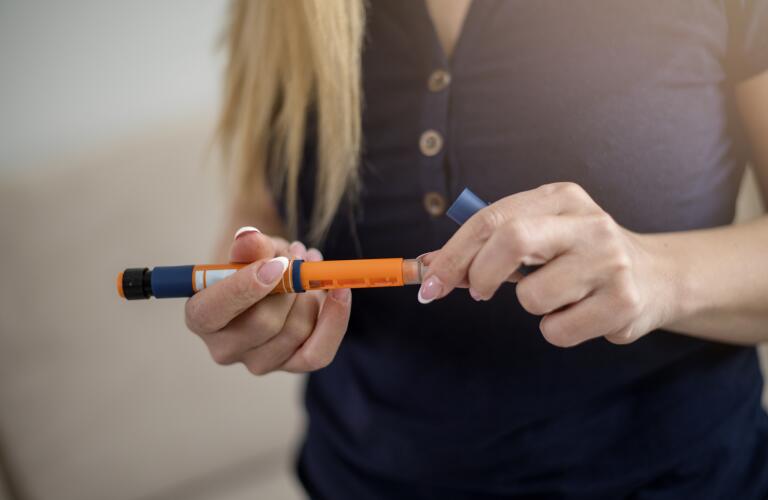 For people who experience anaphylaxis—a life-threatening allergic reaction that causes severe breathing problems—an immediate self-injection of epinephrine can save their life. Since its introduction decades ago, the EpiPen autoinjector has served as the standard option for these individuals. The EpiPen recently has been both hard to obtain due to shortages and hard to afford because of its high price. EpiPens usually are dispensed as a pair of injectors, and many people find the typical EpiPen price of about $600 per pair unaffordable. What's more, intermittent EpiPen shortages sometimes make the devices impossible to buy at any price.
These issues with EpiPen have led other drug manufacturers to develop their own brands of epinephrine injectors. For children with a peanut allergy or adults allergic to bee stings (among the many types of allergic reactions that require emergency epinephrine treatment), these new developments may help make epinephrine more affordable—and more available—to keep them safe.
EpiPen is the brand name of an autoinjectable epinephrine device that Meridian Medical Technologies first brought to market in the late 1980s; drug maker Merck was granted marketing rights in the late 1990s. These hand-held devices resemble a chubby pen and contain a hypodermic needle that pops out to inject medication when the device is pressed against a person's thigh.
The EpiPen made life safer for people with severe allergies, because they now could carry life-saving medicine with them at all times instead of hoping they reached an emergency room quickly enough to be rescued. Under Merck's distribution and marketing, the cost of an EpiPen generally hovered around $100 per two-pack.
In 2007, Merck entered into a deal with drug company Mylan that gave the new manufacturer the right to market the EpiPen. At the time, Mylan redesigned certain aspects of the autoinjector and labeling, and subsequently engaged in a series of price increases over the next several years. Under Mylan, the price of a two-pack of EpiPens topped out at about $600, where it has remained for the past few years. Certain government actions contributed to EpiPen's popularity and market share. The lack of competing epinephrine autoinjector technology preserved the high price too.
In response to public outrage over the skyrocketing cost of its EpiPen, Mylan introduced a patient assistance program. Under this program, eligible patients can obtain a coupon that offsets their insurance copays for the lifesaving drug. Mylan also developed an 'authorized' generic version of EpiPen—'Mylan's Epinephrine Injection, USP and offers a separate patient assistance plan for that drug. (An authorized generic is the same drug formulation and device as the brand-name product, but the labeling is different and the company is authorized to market it as a generic product.) The Mylan-produced authorized generic EpiPens generally cost about one-half the price of name-brand EpiPen.
Other manufacturers subsequently have entered the market to supply epinephrine injection systems. If you want to bypass Mylan products altogether, you now can choose from these options:
Teva pharmaceuticals received FDA approval in August of 2018 for the first 'true' generic of the EpiPen. A true generic has the same active ingredient (epinephrine) and, in this case, the same device functionality as EpiPen. It is essentially a copy of or equivalent to the EpiPen, but made from a different company than the brand name product's company. The fact that it's a true generic means a pharmacist may substitute the Teva epinephrine autoinjector for a patient's EpiPen prescription without contacting the prescriber for permission (but with the patient's permission).
This epinephrine injector produced by Amedra Pharmaceuticals, a subsidiary of Impax Laboratories, appears to offer better availability and better pricing than EpiPen. The Adrenaclick drug-device combination still is not cheap though. A two-pack of Adrenaclick generally costs around $300, and you may have to pay separately for a required 'trainer device' that teaches you how to use the injector.
Impax Epinephrine Autoinjector (authorized generic for Adrenaclick)
Check with your pharmacy to see if the 'authorized' generic version of Adrenaclick is available. In 2017, CVS Pharmacies began offering this product for just $110 per two-pack. Patients with commercial insurance can download a trial card that reduces the cost to $0. Those without commercial insurance can use the card to get $10 off the price at the pharmacy.
Introduced by Sanofi pharmaceuticals in 2012, the Auvi-Q epinephrine autoinjector is now produced by the company kaléo. Auvi-Q offers audio-guided autoinjection that delivers the same type of drug as an EpiPen. Sanofi voluntarily recalled it in late 2015 due to dosage problems, but the device was improved and the FDA approved it in 2016. It now comes in doses suitable for infants who weigh at least 16 pounds, as well as autoinjectors for toddlers, older children, and adults.
People with commercial insurance can obtain Auvi-Q at no charge, and the device is shipped directly to your home by the manufacturer. Notably, Auvi-Q also includes a trainer device at no additional cost.
This new competitor to Mylan's EpiPen is available wholesale and to consumers (available in 0.3 mg and 0.15 mg doses, so it can be used in patients weighing at least 33 pounds). Symjepi is not an autoinjector but a prefilled epinephrine syringe. The manufacturer offers a patient assistant program that makes the drug available at no cost to qualified individuals.
For anyone who experiences anaphylaxis (also called type I allergic reactions), carrying epinephrine can buy precious minutes until emergency responders arrive to provide advanced treatment. With more drug companies entering the epinephrine market—and the continued expansion of patient assistance programs—the availability and affordability of epinephrine devices may keep improving so no one has to go without this 'priceless' lifesaver.
Was this helpful?