What Seniors Need to Know About Sexually Transmitted Diseases
Was this helpful?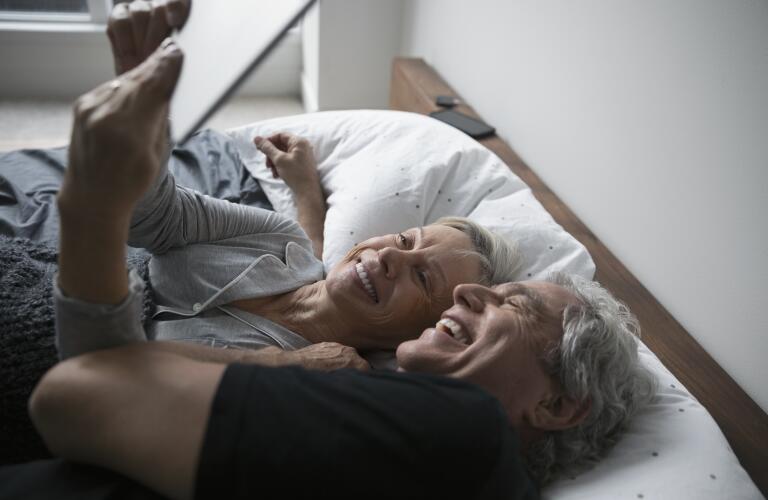 If you're over age 65 and thinking of diving into the dating scene, you may want to talk with your doctor about sexually transmitted diseases (STDs, also called sexually transmitted infections or STIs). According to the U.S. Centers for Disease Control and Prevention, rates of the three most serious STDs—chlamydia, gonorrhea and syphilis—all have risen in the senior population over the past five years.
Many factors may be contributing to this trend, and seniors need to know their risk so they can take steps to prevent infection.
Experts speculate that STD rates may be rising within the over-65 age group for a number of reasons. The availability of medications to treat erectile dysfunction in men and vaginal dryness in women may keep people sexually active longer than in past decades, which increases the chance of acquiring an STI. Older adults also may see no need for birth control, so they forego condom usage without considering how barrier protection might spare them from getting an STD.
Over the past five years, data regarding men and women over age 65 show:
Chlamydia cases nearly doubled, from 6,801 infections reported in 2013 to 13,534 in 2017.

Gonorrhea cases almost tripled, going from 4,627 to 12,930.

Syphilis cases more than doubled, rising from 912 to 1,935.
It's worth noting these rates don't affect men and women equally. Men tend to experience more STIs than women do, overall, but the rates are rising among both groups. Keep in mind, also, these numbers don't address rates for herpes, human papillomavirus (HPV), HIV, or other sexually transmitted conditions.
Part of starting a new sexual relationship involves each partner sharing their intimate history, including any current or previous STDs. All seniors having sex with new partners also should know common STD symptoms in order to seek prompt medical attention if needed.
Burning sensation when urinating

Discharge from the penis or vagina

In men: pain or burning around the urethral opening or pain or swelling in one or both testicles

In women: pain during intercourse
May produce mild symptoms or none at all early on

In men: pain with urination and/or discharge from the penis

In women: pain with urination and/or discharge from the vagina; spotting or bleeding also is possible
A sore in the genital area, mouth or lips that heals within 3 to 12 weeks

Occasionally a swollen lymph node near the site of the sore

Fever, loss of appetite, nausea and fatigue beginning within 12 weeks of the sore's appearance

Non-itchy skin rash on hands or feet
Treating adults over age 65 for STDs may require special considerations of the individual's general health status and current medications. In general, antibiotics can cure these infections. You also will need to notify your sexual partners so they can consult their doctor. Usually the partners of anyone who gets chlamydia, gonorrhea or syphilis need to be treated even if they aren't exhibiting symptoms.
Many people with chlamydia experience reinfection after taking antibiotics. Ask your doctor if you should be re-tested after three months to make sure you're infection-free.
Older adults should not necessarily avoid physical intimacy just to prevent getting an STI, even though abstaining from sex is the surest way to prevent infection. If you plan to embark on a new sexual relationship, try these strategies for STD prevention:
Avoid engaging in sexual relations with multiple partners, as this increases your risk of getting an STD.

Have a frank discussion with your doctor or gynecologist about your plans. Your doctor can evaluate your current sexual health and suggest methods for preventing STDs.

Know that both men and women can get an STD through oral sex, too. Don't engage in this type of intimacy unless you feel confident about your partner's sexual history disclosure and current sexual health status.

Learn the proper way to use a condom. You can find many videos online that demonstrate how to put on and remove this important barrier against STIs.
While some sexually transmitted infections can be successfully treated with antibiotics, older adults should be aware that many other STDs cannot. Herpes, human papillomavirus (genital warts), and human immunodeficiency virus (HIV) represent lifelong conditions that could seriously affect a senior's quality of life. Talking to your doctor about how to prevent STDs in older age is a good first step towards staying sexually healthy and active for as long as you desire.
Was this helpful?