Talking to Your Kids About Your Health Wishes
Was this helpful?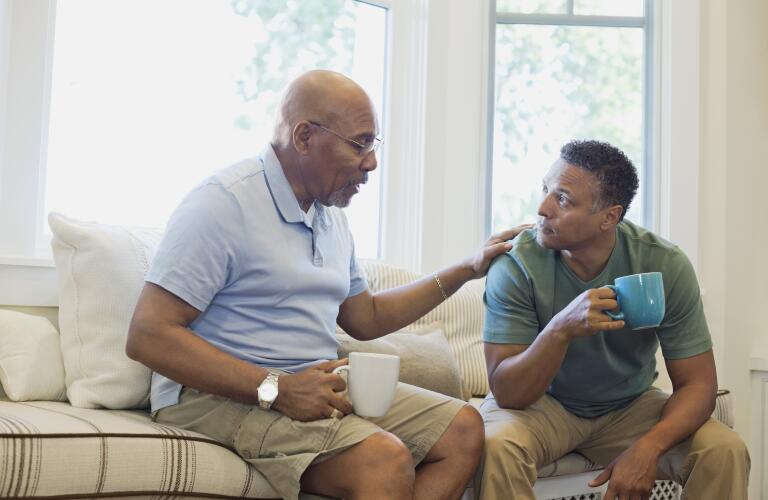 Planning for major life events like births and marriages are joyful, easy topics of conversation. It's much harder to bring up difficult health decision-making matters and end-of-life planning with your family. While it may be challenging to do, it's important to talk with your children about your health wishes. If you don't tell them what you want, they could become overwhelmed with stress and grief, or end up in disagreements with siblings about how to handle your care. When your loved ones know you've considered all the possibilities, it will be easier for them to help you make decisions when the time comes.
If you're in the middle of an emergency and important decisions need to be made immediately, it's no time to be sorting out your options. Plan a time to sit down with your kids and talk about your health wishes—particularly for end-of-life care—before a crisis hits.
You may want to broach the topic at a significant life event, such as at your retirement, moving to a senior living apartment, or transferring to a long-term care residence. It's important to have a plan in mind for the conversation. It should not be off-the-cuff. Instead, you should have a list of specific topics to discuss.
When planning the conversation, be sure to choose an appropriate setting. Private is often best, but your children may be more comfortable talking about it as a family or with a religious figure present. And try to ease your way into the discussion. Remember, even though you've already thought about all the details, it may be the first time your child is considering these weighty healthcare decisions.
Do your research and make the tough decisions before you discuss them with your children. For example, you may want an agent to have medical power of attorney to make healthcare decisions for you in case you aren't able to make them for yourself. This person should be trusted to choose care and make medical decisions aligned with your values. People often choose a spouse, but others may want a child or other relative to make those decisions. If you want one of your kids to hold medical power of attorney, you'll need to make sure he or she agrees to shoulder the responsibility.
You'll also need to decide on your end-of-life healthcare preferences. Communicate your wishes about whether you would prefer to be in a hospital setting or in hospice care, whether you would want aggressive treatment for an illness or only palliative care, and whether you will have a do-not-resuscitate order, also called a DNR. This is a written order from your doctor for medical professionals not to administer CPR in an emergency when your heart stops or you are no longer breathing.
During this conversation with your kids, it's a good time to share your living will with them. If you want a DNR order, specify in this legal document. You'll also include your wishes regarding other life-sustaining treatment, such as a mechanical ventilator or a feeding tube, and whether you want your organs or body donated after your death.
Acknowledge to your children that talking about your health wishes will be a difficult conversation, but that you need their help in having your preferences carried out. Also mention that if you are able to communicate your values to them, it will relieve some of their anxiety down the line should they be forced to make difficult healthcare decisions for you.
Finding a good time to bring up the topic may be a challenge if you're apprehensive about the conversation and worried how your children will react. But remember the benefits of having your children know your health wishes, and it will become easier to start the discussion.
Was this helpful?