A Long Distance Emergency Care Plan for Aging Parents
Was this helpful?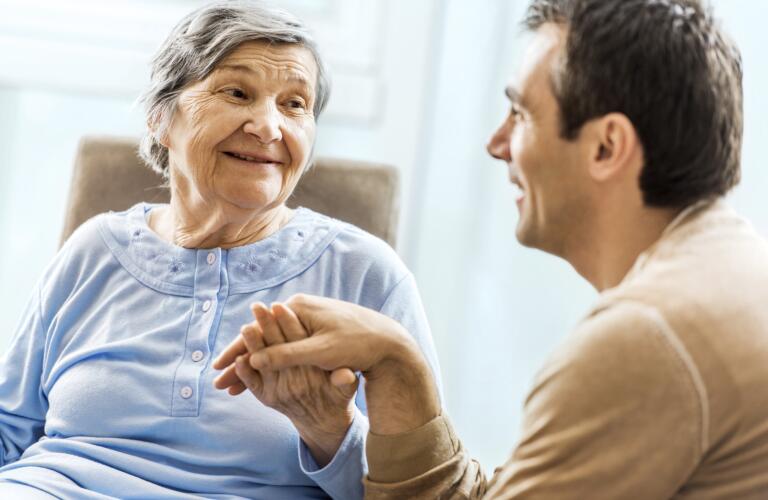 Caring for an older parent can be challenging. Living far away from that parent can make it even more difficult. The key is to have a strategy in place that takes into account any emergencies. The following steps can help make sure your parent gets the care they need even when you're not close by.
Regular phone conversations are a good way to stay connected despite being far away from a parent. Smartphones and computers make video chats possible, too. Special phones designed for people with hearing or vision issues are available if or when necessary. However, talks on the phone might not be the best way to truly know how a parent is doing. It can be easy to minimize problems when talking on the phone. It can be hard to tell if things are really going as well as they say.
One answer is to supplement calls with visits. Make these visits productive by having a list of things to accomplish. This might include taking your parent to the doctor or taking care of some chores around the house. Think of each visit as a chance to assess your parent's ability to handle day-to-day activities—things like personal grooming, cooking, and cleaning. Old food in the fridge and a stack of unpaid bills are clues that there might be problems.
Technology has also made it easier to help parents from a distance. For instance, there are devices that can remind them to take medications at the right time. Devices can track their movements. Others have an emergency button to call for help.
If a parent needs more hands-on help, consider hiring a licensed geriatric care manager. That's someone who's been trained to oversee the care of older people. This person can assess your parent's needs and either oversee or provide regular help. A care manager would also act as your eyes and ears and communicate with you on a regular basis as well as during any emergencies. Search www.caring.com for a geriatric care manager near you.
As parents grow older, their adult children often need to play a more active role in their healthcare. Ask your parent to schedule doctor visits when you're in town. Do your homework and prepare questions for each doctor. However, be respectful of your parents. Resist talking over them at the appointments. Together with your mom or dad, create a list of items to discuss during the appointment.
Depending on your parent's health status, you might ask if the doctor can give you regular updates by email or phone.
One of the greatest fears of long-distance caregivers is not being at a parent's side in an emergency. Taking steps to be prepared for such an event can give you peace of mind. It also ensures that your mom or dad gets immediate attention.
1. Create a contact list. You, your parent, and any caregivers or care managers should have a copy of this list. Include phone numbers for you as well as all doctors, labs, pharmacies, medical centers, friends, neighbors and anyone else who might be able to help in an emergency. Find out what hospital your parent prefers, and put that on the list. Also add the fastest route to get to the hospital.
If your parent has a cell phone, list the most important contacts under ICE, which stands for "in case of emergency." Follow it with a name or description. For instance, contact information might read "ICE cardiologist." Then, any caregiver can use your parent's phone to call for help if something serious occurs.
2. Organize all vital information. Put everything in one folder. Include:
A list of all medications. Include the dose, a physical description of the medicine (for instance, the color, size and numbers on a pill), and how often it's taken.

An overview of medical history. Note any medical devices used and procedures your parent has had.

Allergies including foods and medications.

A copy of the contact list.

Copies of important legal documents including advance directives.

Insurance information, such as Medicare and any supplemental insurance.
You might include this folder as part of an emergency travel kit of things your parent would want during a hospital stay. Include clothing and travel-size toiletries. This way, no one will have to scramble to gather essentials in an emergency.
3. Agree on what constitutes an emergency. Some seniors may be reluctant to seek emergency help that takes them away from their home. But, getting medical care early on can help avoid more serious, long-term problems.
Explain to them the warning signs that emergency care may be necessary. And, persuade your parents to agree to seek help if those signs are present. For instance, fainting, heavy bleeding, severe pain, excessive vomiting and shortness of breath warrant a trip to the hospital.
Ask your parent's doctor if there are other symptoms to watch for. Also, make sure your parent understands these symptoms merit a call to 911 for an ambulance. A sick parent should not try to drive or even have their spouse drive them to the hospital.
Was this helpful?