How Acupuncture Eases Pain
Was this helpful?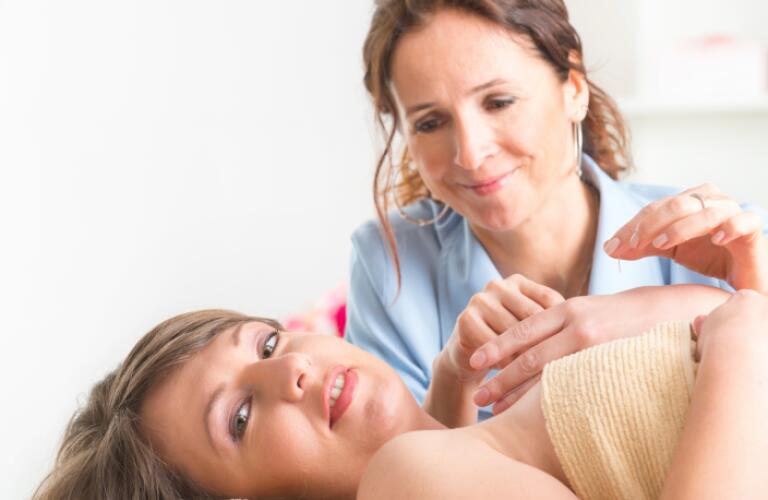 Acupuncture is becoming a popular treatment for pain. This ancient form of Chinese medicine is a good complement to traditional medicine for many types of pain. This includes lower back pain, neck pain, osteoarthritis pain, and headache pain. It's also effective for anesthesia and postoperative dental pain.
You may wonder how inserting unmedicated needles into the skin can relieve pain. Pain experts don't fully understand how acupuncture eases pain, but the key lies in the meridian system and how we perceive pain.
Chinese medicine maintains acupuncture works by restoring the proper flow of qi (pronounced "CHEE"). Qi is the body's vital energy and flows through the body on meridians, or pathways. The problem is we can't measure these meridians or the qi that flows through them. As a result, skeptics claim acupuncture is nothing more than a placebo effect. In other words, it works because of the power of suggestion—people believe it will work, so it does.
According to traditional Chinese medicine, acupuncture restores the flow of qi through the meridians. When qi energy is flowing normally, your pain goes away. Some studies have attempted to see the meridian pathway. Physical proof is lacking, but research suggests meridians are distinct from the blood vessel and lymph systems.
A natural opioid effect is one of the more popular Western explanations for pain relief from acupuncture. Your body produces a variety of natural pain relievers, generally known as endorphins. Researchers have found that acupuncture needling increases the levels of endorphins in cerebrospinal fluid (CSF).
Another explanation involves the neurogate theory. This theory is similar to TENS (transcutaneous electrical nerve stimulation) therapy. TENS is a well-known tool in physical therapy to relieve pain. It's possible acupuncture works in the same way by stimulating nerves to block pain.
Acupuncture may also stimulate the release of hormones and other factors that control inflammation. For example, acupuncture increases cortisol production. Cortisol in a natural corticosteroid and plays a role in inflammation and stress.
Finally, acupuncture may have local effects right at the site. It may increase blood flow and promote tissue relaxation.
Western medicine may not be able to fully explain acupuncture's mechanism in pain relief. But millions of Americans swear by it, especially for chronic pain. If you're thinking about acupuncture, see your primary care doctor first. Many acupuncturists want you to have a diagnosis when you come to see them.
Was this helpful?