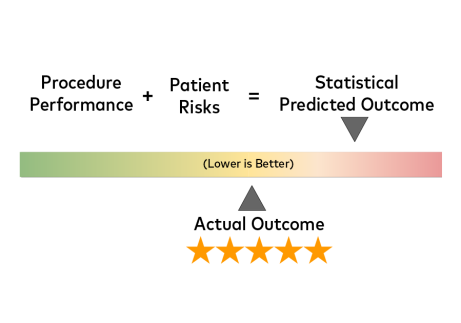 How We Rate Hospital Quality
Highlighting hospital quality is extremely important as people research and choose the best healthcare journey. Whether looking for a knee replacement or facility for child birth, the location that you choose can make a big difference in your recovery and future well-being.

Healthgrades recognizes the importance of accurate and relevant data by which we evaluate clinical quality. Our dedicated data science team and internal clinical experts continually work on our methodology and process. Each year it is reviewed by our Quality Advisory Board and additional outside Specialty Clinical Experts.

1 - Procedure Performance
First, we determine if the hospital visit resulted in a complication or mortality. We continue to monitor 30 days after care to make sure there is not a mortality.
3 - Predicted Outcome
Third, we create a predictive model based on the expected outcome from patients with the same conditions and procedures, as well as potential risks.

2 - Potential Risks
Second, we develop a list of potential risks based on the patient's condition and the hospital visit. Did the patient have other health conditions that may have had other risks?

4 - Star Ratings
Finally, we compare our predictive outcome to actual outcomes at a facility and star ratings are awarded based on whether the facility has outcomes that are statistically higher or lower than expectations.
Where Does Data Come From
Healthgrades analyzes patient outcome data on 45 million+ Medicare medical claims records of the most recent three-year time period available for nearly 4,500 hospitals nationwide. Other select data includes: patient survey data from Centers for Medicare and Medicaid Services (CMS) and patient outcome data for all patients (all-payer data) from states that make their data available
45 Million Patient Outcomes
The Quality Advisory Board is a formal body who offers Healthgrades the ability to receive additional input for both methodology questions and overall quality topics.

Members act as independent consultants and do not participate on behalf of any affiliated hospital or health system.
Healthgrades measures hospital performance based on patient outcomes. Our methodologies adjust for each patient's risk factors, such as age, gender, and medical condition. To ensure the accuracy and relevance of our data analysis, we annually review our ratings methodology and the process by which we evaluate clinical quality.