Why Hospital Ratings Matter to Your Patients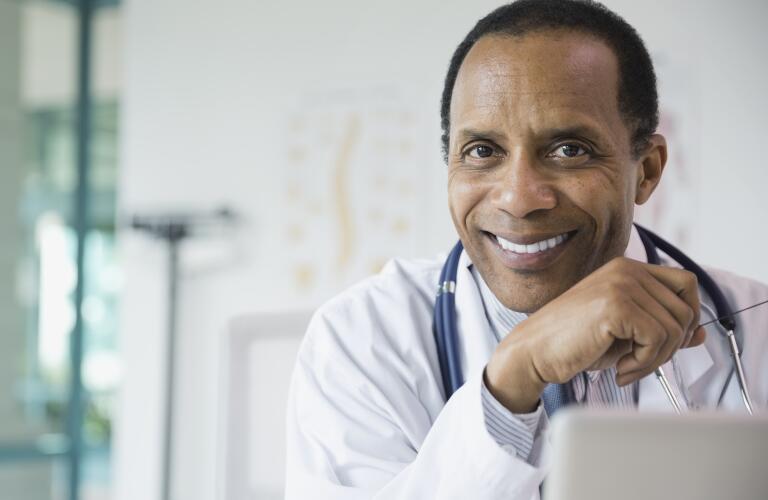 Many doctors recognize the importance of online ratings and reviews of doctors for today's patients. But as health consumers take on more financial responsibility for a wider range of conditions and procedures, they are also seeking reliable information about the quality of hospitals where they receive care.
Healthgrades presents important quality measures that consumers take into account and healthcare professionals can depend on when referring patients for care. This unbiased, evidence-based view of hospital clinical quality outcomes, patient safety, and patient experience ratings is posted on every hospital profile on Healthgrades.com.
Healthgrades evaluates hospital quality based solely on clinical outcomes for the most common inpatient procedures and conditions. Outcome measures include mortality (in-hospital and 30 days after) and complications, which are risk adjusted for patient age, gender, and medical conditions.
This analysis is based on more than 45 million Medicare medical claims records for the most recent three-year period available from nearly 4,500 hospitals nationwide.
When a patient is admitted to a hospital, the last thing they would expect is to become unnecessarily sicker. Patient safety measures how well a hospital prevents injuries, infections and other serious conditions based on 14 potentially preventable adverse events, such as sepsis or respiratory failure following surgery.
Healthgrades uses inpatient data from the Medicare Provider Analysis and Review (MedPAR) database and software from the Agency for Healthcare Research and Quality (AHRQ) to compile a list of hospitals demonstrating excellent performance in patient safety.
Patient experience ratings indicate how well a hospital delivers a positive experience for patients during their hospital stay—as reported by patients. Healthgrades evaluates patient experience performance by applying a scoring methodology to nine patient experience measures, such as cleanliness, staff responsiveness, and communication with doctors and nurses. Data for these ratings is from the HCAHPS (Hospital Consumer Assessment of Healthcare Providers and Systems) standardized 32-question survey of each hospitals' own patients.
Since a women's care journey spans many years and experiences, it's critical for female patients and their providers to have the facts before choosing a hospital. Healthgrades analyzes the quality of care for women during and after childbirth and outcomes for the most common gynecologic procedures. For women's care ratings, Healthgrades includes patient outcome data from over a dozen states that make their data available.
Physicians and other healthcare professionals typically rely on personal knowledge, experience or relationships with hospitals when deciding where to admit patients. Using the Healthgrades Find a Hospital search, consumers and healthcare providers can view hospital profiles detailing quality ratings and outcomes, as well as quality awards that recognize hospitals with exceptional clinical outcomes. These insights can help both consumers and healthcare providers make the right decision together when it comes to receiving hospital care.
Was this helpful?