Spotting Suicide Risks in Your Practice
Physicians have a higher risk of suicide than the general population. Know the warning signs.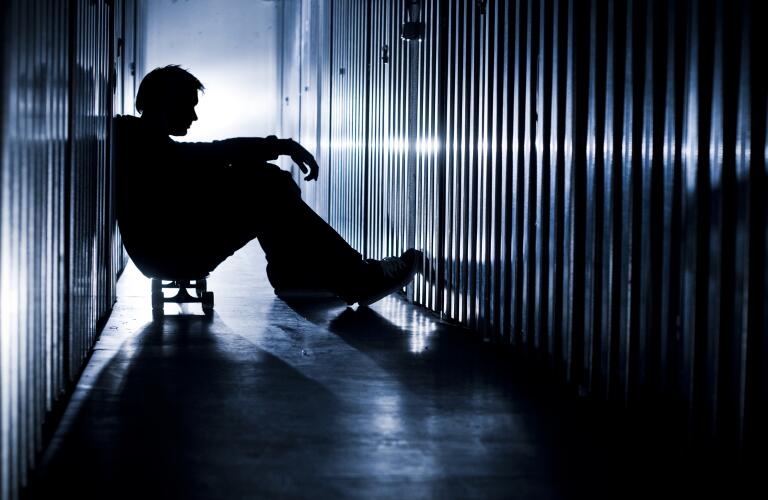 If you or someone you know is experiencing suicidal thoughts or considering self-harm, help is available by calling 988 to reach the National Suicide Prevention Lifeline , or by texting the Crisis Text Line (text HELLO to 741741).
Utah emergency room doctor Scott Jolley, MD, 55, often was the only physician on staff during the early months of the COVID-19 pandemic. The experience left him with PTSD so severe that he took his own life.
Dr. Jolley was one of an estimated 300 to 400 physicians to die by suicide each year in America—a rate double that of the general population. While doctors have long been at higher risk for suicide, experts fear the added stress and burnout endured during the pandemic may cause even more to lose their lives. It's important to know physician suicide risk factors and warning signs so you can help your colleagues—and maybe yourself.
Medical students, residents, and physicians in practice are at heightened risk for suicide. Especially vulnerable are medical students, who are about three times as likely as non-medical students to die by suicide, and female physicians, whose rate of suicide is 250 to 400% higher than females in other professions.
Another risk factor is burnout. About 47% of physicians report being burned out, but the numbers are higher for certain specialties. About 60% of emergency medicine doctors reported being burned out in 2021, which leads the field, says Medscape. Doctors also report being less happy since COVID-19 began: only 6 in 10 doctors are happy today, compared to 80% before the pandemic.
Signs of physician burnout are:
exhaustion
"compassion fatigue"—lack of emotional energy for patients
questioning the value of your work
Physicians also may be at risk of suicide due to a variety of factors related to their profession. Some of these include:
recent loss of a patient
financial problems (heightened during COVID lockdowns)
access to lethal drugs or other means of death
lack of support from employers (such as not receiving sufficient personal protective equipment)
lack of confidential mental health resources
lack of sleep (often due to overwork or shift work)
internalized physician cultural expectations that stigmatize seeking help ("stiff upper lip" syndrome)
Some medical specialties may have higher suicide risk than others, according to Medscape, which surveyed 9,000 physicians in 2022. Overall, 9% of physicians reported experiencing suicidal thoughts and 1% said they've attempted suicide. This is down from higher rates reported at the height of the pandemic.
Specialties with higher-than-average rates of suicidal thinking include:
Otolaryngology (13%)
Psychiatry (12%)
Family medicine (12%)
Anesthesiology (12%)
Ob/Gyn (12%)
Emergency medicine (12%)
It should be noted that the responses by specialty vary significantly year to year in the Medscape surveys.
How can you tell if risk factors have translated into suicide ideation? Warning signs of possible suicidal thinking are similar in both physicians and the general population. These include:
increased use of medications, alcohol, or illicit drugs (substance use disorder)
mood swings, including outbursts of anger, sadness, or hopelessness
sleep changes, including difficulty sleeping or sleeping all the time
loss of interest in formerly pleasurable activities and relationships (withdrawing from others)
talking about being a burden or having no purpose
acting in an agitated or anxious fashion, such as behaving recklessly
expressing a desire for self-harm or talking about death, dying, and suicide
Your colleague tells you she is working 70 hours a week and is feeling burned out. She looks exhausted and unhappy. What should you do?
Experts recommend encouraging your friend to share what she is feeling, rather than trying to change the subject to something light or cheerful. Instead, listen and then listen some more. Let her know you are there for her. If it seems warranted, ask her if she has had any thoughts of harming herself. (Experts say that asking about suicidal impulses does not cause someone to commit suicide.)
You also may want to offer to help with your colleague's caseload, plus recommend a therapist or employee assistance program.
"Vital Signs," a website created for Physician Suicide Awareness Day on September 17, offers more tips on how to hold such conversations, as well as other ways you can help stressed-out, burned-out colleagues — or yourself, if you need help.
You can find peer support resources from a variety of other organizations as well, many of which are listed on Vital Signs. The American Medical Association Trusted Source American Medical Association Highly respected international organization Go to source also has reports and other resources to help raise awareness about physician suicide and its warning signs, along with prevention steps you can take.
You can advocate for policy initiatives aimed at removing barriers to mental health for physicians. The Federation of State Medical Boards has issued recommendations that would protect physician privacy, but many state medical boards continue to include mental health history questions on licensing forms, as do medical malpractice insurers, some hospital systems and other entities.
This makes some doctors reluctant to seek mental health help Trusted Source National Institute of Neurological Disorders and Stroke Governmental authority Go to source when needed. One recent survey found that 20% of doctors are afraid to get mental health care because they are afraid it will risk their careers.
To overcome this barrier, advocates suggest lobbying your state medical board or other regulatory agencies for more confidentiality.
Another policy measure that addresses physician suicide is the Lorna Breen Health Care Provider Protection Act, named for a New York ER doctor who died by suicide in April 2020. The bipartisan measure was signed into law by President Biden on March 18, 2022. The act will provide more funding for mental health education supporting the needs of healthcare workers.
Whether you act to effect public policy change or, on a more personal level, help a colleague in need, there are things you can do to make a difference—to raise suicide awareness and reduce the very real risk of physician suicide.
Was this helpful?