Oldest and Youngest Doctors by Specialty
Was this helpful?
Specialties with an older physician base may feel shortages more acutely as the aging American population requires increased care—and the impact of COVID-driven physician dropout becomes clear.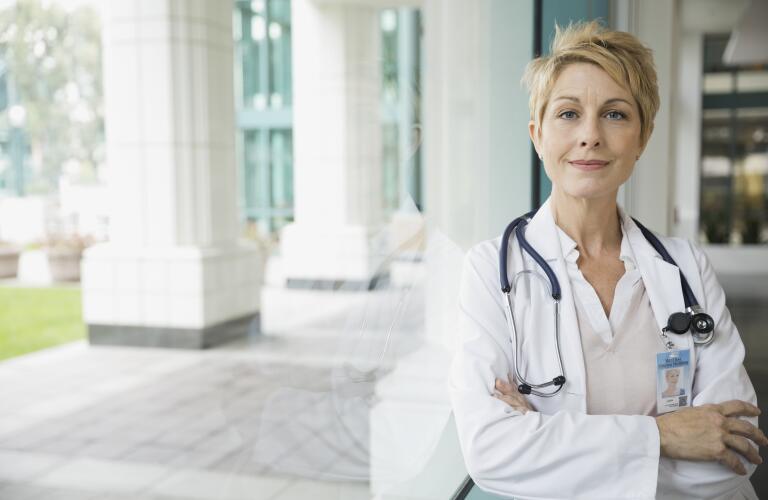 One factor often cited in the growing physician shortage in the United States is the aging population of doctors; one-third of active physicians will be older than 65 in the next decade. But which specialties will be most affected by changing age demographics among doctors?
In their latest survey of Active Physicians by Age and Specialty, conducted in 2019, the Association of American Medical Colleges (AAMC) counted approximately 935,000 practicing physicians in the U.S. Of those, the majority (55%) are under age 55, while 45% are age 55 or older.
When do you plan to retire?
More than 10 years from now
Many of the specialties with older physicians are among the highest in demand, including psychiatry, which has seen increased caseloads in light of the COVID-19 pandemic.
1. Pulmonary Disease
The AAMC's 2019 survey of specialists by age found a whopping 91% of active pulmonary disease specialists were over 55. Some of this may be due to the trend of pulmonary critical care replacing pulmonary disease treatment. Still, with the increase in COPD in the Boomer generation, (not to mention COVID-19), pulmonologists can be hard for patients to find. The specialty ranks 11th in the U.S. for people per specialist, with more than 64,000 individuals for each practitioner.
2. Preventive Medicine
Seventy percent of preventive medicine specialists are over 55, according to the AAMC survey, and the number of practitioners has dropped by almost half from its peak in the 1970s. Starting in 1999, however, the numbers began to increase, growing from 6,091 to 9,720 in 2018. With public health challenges coming into sharp focus during the pandemic, and only two preventive medicine specialists per 100,000 people, the speciality is likely to remain in the spotlight.
3. Clinical Pathology
The survey found that 68% of clinical pathologists are over 55, but the overall number of practitioners may have been undercounted, according to the College of American Pathologists. Between 2007 and 2017, there was an 18% drop in the number of pathologists while the workload rose by almost 42%. A Medscape survey predicted that with a high burnout rate among clinical pathologists, retirement would peak in 2021—and that survey was pre-COVID. One bright spot: an increasing number of graduates from international medical schools, many of whom are U.S. citizens, are entering pathology.
4. Cardiovascular Disease
The quadruple threat of aging, chronic disease, diabetes, and metabolic syndrome create an increased demand for cardiologists, 63% of whom are over 55. Though there was speculation in the past that the U.S. was training too many specialists, by 2001 it appeared the supply of cardiologists was not meeting the growing demand. The number of cardiologists increased by 1.1% from 2010 to 2015, while the overall growth rate in doctors was 7.7%. Medical graduates are often choosing other specialities, and those that do elect to go into cardiology are located primarily in urban areas, leaving other regions underserved.
5. Psychiatry
Sixty-one percent of psychiatrists are over 55 according to the AAMC, and by 2018 the specialty was top of the list when it came to physician shortages. Psychiatry is not attracting many new practitioners, due to the demands of documentation and regulations, while offering lower pay than some other specialities. The stresses of the pandemic, increased emphasis on the benefits of mental healthcare, and more affordability for patients have led to a leap in demand, while federal spending on mental health services has not increased.
It makes sense that younger physicians are more represented in newer subspecialties, such as sports medicine, but younger doctors may also be seeking out higher-paying specialties like interventional cardiology.
1. Sports Medicine
About 92% of sports medicine specialists are under 55, perhaps unsurprisingly since it's been a subspecialty for less than 30 years. (Though Olympians had physicians as early as the 5th century.) Currently, there are about 372,400 sports medicine physicians in the United States; it is one of the fastest growing specialties, with the number of practitioners increasing by more than 55% between 2014 and 2019. The average salary for a sports medicine specialist tops $200,000, and places in the top 1% of careers when it comes to job satisfaction.
2. Pediatric Anesthesiology
Pediatric anesthesiology was recognized about 25 years ago by the Accreditation Council for Graduate Medical Education (ACGME). Nineteen years later, in 2016, there were 4,048 pediatric anesthesiologists in the U.S. with a median age of just 49. In 2019, the AAMC found that 91% of pediatric anesthesiologists were still under 55. Just over 56% were men and slightly less than 44% were women. About two-thirds of these practitioners are subspecialty board-certified, and a third are associated with an academic body.
3. Pediatric Internal Medicine
Eighty-eight percent of doctors specializing in pediatric internal medicine are currently under 55. Even so, the American Academy of Pediatrics (AAP) points to a shortage of pediatric medical subspecialists in many fields, including primary care pediatricians. The demand is likely to continue to increase, due to a rise in chronic diseases among children, decreasing physician work hours, and efforts to improve access to care among children, particularly in underserved areas.
4. Interventional Cardiology
Innovations in technology and the introduction of new life-saving devices continue to expand the horizons of interventional cardiology, a field in which 87% of physicians are under 55. Interventional cardiologists earn, on average, approximately 30% more than noninvasive cardiologists. Applications to interventional cardiology training programs increased by over 30% from 2011 to 2015. Still, a shortfall exists, with about 75,000 people for each of the slightly more than 4,000 interventional cardiologists.
5. Sports Medicine (Surgical)
This orthopedic subspecialty is made up of 83% of doctors under 55. Recognized in 1992, surgical sports medicine is projected to make up an estimated 4% of all physicians and surgeons by 2029. Physicians express high satisfaction in the specialty, and make an average salary of $387,000. Like non-surgical sports medicine, it is a fast-growing field, led in part by the increase in availability of minimally-invasive technologies, which can help return athletes to the game more quickly and safely.
While age is just one factor in the continuing physician shortage, it is the one that cannot be changed. As older doctors retire or leave medicine for other reasons, the industry must continue to employ a variety of strategies to bring new doctors into medicine—and foster job satisfaction to keep them there.

Was this helpful?