How the COVID-19 Pandemic Has Affected Physician Happiness
Was this helpful?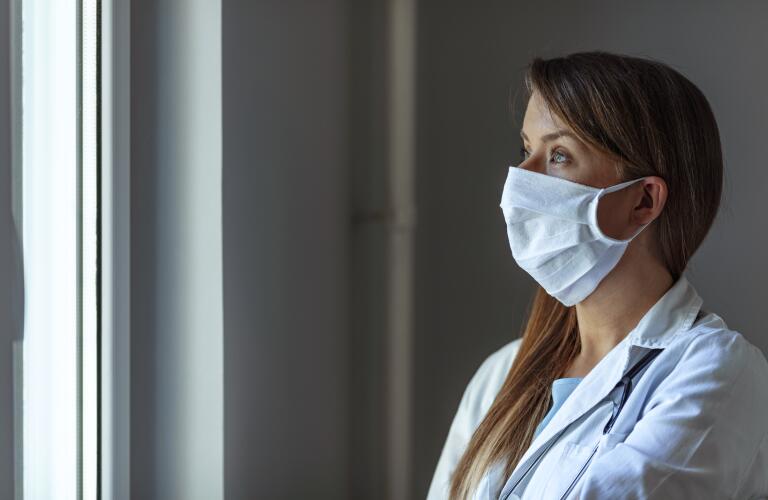 Each year, Medscape surveys physicians about their happiness level outside of work, providing insight into the factors that can influence physician burnout and the overall satisfaction of people who choose a career in medicine.
Like all other aspects of the industry, physician happiness was affected significantly by the COVID-19 pandemic. The 2021 Medscape Physician Lifestyle & Happiness Report—surveying more than 12,000 doctors across 29 specialties—was conducted from August 30 through November 5, 2020, so responses reflect the impact of the pandemic.
Doctors reported that before the pandemic, they were largely happy outside of work. Overall, 82% of physicians said they were happy outside of work pre-pandemic, with levels relatively even between men (83%) and women (80%). Only 2% reported having felt very unhappy. How have things changed since COVID-19?
How does being a physician affect your overall happiness?
Has no impact on my happiness
Changes in Physician Happiness Since COVID-19
Not surprisingly, physician happiness has taken a hit over the course of the pandemic. When asked how happy they were outside of work at the time of the 2021 survey, respondents said:
Very happy: 20% (down 53%)
Somewhat happy: 38% (down 2%)
Neither happy nor unhappy: 15% (up 66%)
Somewhat unhappy: 21% (up 62%)
Very unhappy: 6% (up 200%)
While 30% of respondents overall said they felt conflicted or very conflicted about balancing medical work and childcare during the pandemic, female physicians felt this impact most acutely as children stayed home from school. Concerns about exposure to the virus made hiring outside help, such as nannies or tutors, more difficult. This put even more pressure on women, who are typically the "CEO" of the home, says Michael F. Myers, MD, a professor of clinical psychiatry at SUNY Downstate Health Sciences in Brooklyn, N.Y., who was quoted in the Medscape report.
Nearly half of respondents (47%) said they would take a pay cut for a better work-life balance, with more women (50%) opting for this tradeoff than men (45%). About a third of physicians surveyed (31%) said they would be willing to sacrifice $20,000 to $50,000 per year for a more balanced work and home life.
Looking Ahead: Anxiety Levels by Physician Specialty
Whereas previous reports listed happiness levels by specialty, the 2021 Medscape survey focused instead on how anxious physicians were feeling as they looked ahead to the future in light of COVID-19. Only a small percentage (9%) said they were very anxious, while a quarter (24%) reported feeling not at all anxious. The majority (67%) said they felt slightly or somewhat anxious.
While anxiety levels within specialties generally were low, these were the specialties with the highest reported anxiety about the future:
Public Health & Preventive Medicine: 11%
General Physician Lifestyle and Happiness Factors
The Medscape report examined several lifestyle factors fueling physician happiness outside of work, including marriage satisfaction, vacation time, drug and alcohol use, and spirituality.
The survey found 85% of physicians were either married or living with a partner, similar to last year's study. For a second straight year, 85% of married physicians characterized their marriages as good or very good. Only 3% said their marriages were poor or very poor.
Even in light of the pandemic, physicians reported taking similar vacation time as they did in the 2020 report (although this year's vacation time likely did not involve travel). Nearly half of physicians (43%) said they take 3 to 4 weeks of vacation each year. Conversely, 38% said they take two weeks or less. About 20% of doctors reported taking five weeks or more.
When it comes to substance use, the majority of doctors tend to consume in moderate amounts, similar to last year's report. Nearly a quarter (24%) consume no alcohol at all, and across generations—Millennials (25-29), Generation X (40-54), and Boomers (55-370—about a third of doctors in each group reported having less than 1 drink per week. Drinking frequency increases with age, however, as 29% of Boomers reported a weekly rate of 5 drinks or more.
When asked about CBD or cannabis use, 93% of doctors said they do not use it; another 4% said they do not currently use it, but would if it became legal in their state.
Spirituality and religious belief can also play a role in overall happiness. Overall, 69% of physicians surveyed said they felt some sense of spirituality or religious connection, similar to the previous report.
For all the stress of the pandemic, many people have found a renewed appreciation for physical and emotional wellness—and physicians are no different. The majority of doctors surveyed said they practice hobbies and activities such as reading, cooking, gardening, exercising, and spending time with family and friends to maintain their happiness and mental health. With burnout a continued threat, any steps physicians can take to improve their satisfaction outside of work will help improve their individual career outlook—and the outlook of the industry as a whole.

Was this helpful?