Burnout and Happiness Among Psychiatrists: 7 Fast Facts
Was this helpful?
More U.S. psychiatrists are reporting feelings of job burnout since the COVID-19 pandemic began, with 5% saying the burnout is so severe they are contemplating leaving medicine, according to a Medscape survey taken in late 2020 (the most recent available at the time of publication).
Psychiatrists also report feeling less happy than pre-pandemic, while some depressed and/or burned out psychiatrists have had suicidal thoughts or attempted suicide.
However, burnout among psychiatrists as well as physician burnout in general has been a growing concern in recent years, starting well before the pandemic. As demand for mental health care only increases in light of the COVID-19 pandemic, here are some fast facts to know about this troubling issue.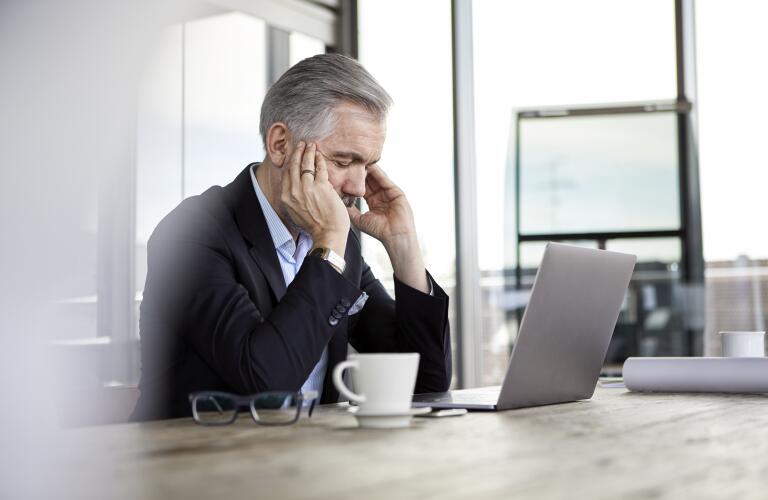 Burnout refers to long-term job-related stress that can leave you feeling exhausted, detached, cynical and like you aren't accomplishing anything professionally. About 41% of psychiatrists surveyed for the Medscape Psychiatrist Lifestyle, Happiness & Burnout Report 2021 — conducted from August 30 through November 5, 2020 — report being burned out, including 11% who say they also are depressed. (Another 2% report being depressed but not burned out.)
This compares to 35% of psychiatrists reporting burnout in a similar Medscape survey in 2019, and 36% burnout rates among psychiatrists in 2018 and 2017 tallies.
Among the more than 12,000 physicians in 29-plus specialties who Medscape surveyed in 2020, 42% of doctors overall reported burnout. This is generally consistent with previous surveys, with a slight bump to 44% in 2018. Psychiatrists typically have been less burned out than physicians in other specialties, but in 2020, their rate climbed enough to almost match the average.
Of the psychiatrists who report being burned out in 2020, 43% say their symptoms are causing "serious or severe" impact on their lives, 25% say the impact is moderate, 32% report little to no impact. Another 5% find burnout to be so difficult that they are thinking of leaving their profession.
Burnout is also associated with suicidal thinking for some psychiatrists. Among those who are either burned out, depressed or both, 15% say they have had had thoughts of suicide. Also, 2% say they have attempted suicide — double the rate of burned out or depressed physicians overall.
In the 2020 Medscape survey, only 55% of psychiatrists report being very or somewhat happy when not on the job, which is below the 58% average of all physicians.
This also represents a significant drop — almost 30 percentage points — from the previous year's survey. Pre-pandemic, about 84% of psychiatrists said they were very or somewhat happy outside of work.
Also, when asked in 2020 how anxious they were about the future, given COVID-19, almost half (47%) of psychiatrists said they were very (9%) or somewhat (38%) anxious. Another 30% were slightly anxious, with 23% saying they weren't at all anxious.
Burnout has been a problem in medicine since before the pandemic. In Medscape's 2021 report, 63% of psychiatrists say their burnout started before the pandemic and 37% say it started after.
Among doctors overall, 79% report burnout prior to COVID-19, with only 21% saying the symptoms are new. These results indicate that psychiatrists more than other specialties have seen burnout begin due to the pandemic.
While more people sought treatment for mental health issues driven by COVID-19 concerns and restrictions, the pandemic was not the primary driver of psychiatrist burnout in 2020.
In the survey for the 2021 Medscape report, psychiatrists could choose more than one reason for their burnout. Far and away the top reason given is "too many bureaucratic tasks," cited by 62% of respondents. Other top reasons for burnout include:
Lack of respect from administrators/employers, colleagues or staff (39%)

Too many hours at work (37%)

Lack of control or autonomy (29%)
Factors specifically related to COVID-19 include "stress from social distancing or societal issues related to COVID," cited by 28%, and stress from treating COVID patients, noted by 6%. Other contributors to burnout are increasing computerization (27%), insufficient compensation or reimbursement (20%), governmental regulations (11%), and lack of respect from patients (11%).
In prior surveys, Medscape found that psychiatrists were tops among all specialties in seeking help for their own mental health concerns, such as burnout. In its 2020 survey of psychiatrists, 24% say they are "currently seeking professional help" for burnout or depression, while 6% say they plan to seek such help. Another 21% say they have been under professional care in the past, though are not currently.
Not all psychiatrists report needing or receiving help with burnout. More than one-third (42%) say they are not seeking help currently and haven't sought help in the past. Of these, 57% say their symptoms aren't severe enough to warrant outside help; 41% say they can deal with burnout symptoms on their own; 36% are too busy to get help; 17% don't want to risk disclosure (having others find out they have sought help) — and 3% say they don't trust mental health professionals.
A web-based survey of 115 Brazilian psychiatry residents published in 2021 found that many have features of burnout, including 60% reporting emotional exhaustion and 54.8% experiencing depersonalization. Also, 53% experienced anxiety, 16.5% had depression, and 7% reported suicidal ideation. Another study published in 2021 showed that 38.4% of 4,520 Chinese psychiatrists meet criteria for burnout.
Was this helpful?