5 Top Reasons Patients Leave Your Practice
Was this helpful?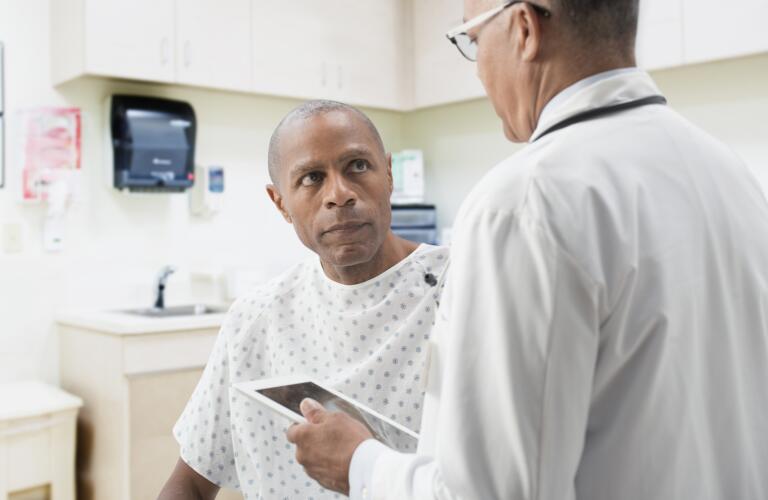 The way we think about healthcare has changed. Today, patients aren't just patients, they're "healthcare consumers." With more medical costs falling on their shoulders, plus the onset of intuitive apps and user-friendly websites, patients have come to expect high quality care, convenience, easy access, and excellent service from their physicians. And it's not just millennials⁠—older generations like baby boomers are also more engaged in their care and expect their doctors to play a key role in keeping the quality of their lives high as they age. Yes, having a good relationship with your patients is crucial, but it may not be enough to keep them coming back. Here's why your patients are leaving your practice⁠—and what you can do to get them to stay.
You don't offer convenient technological tools.

Convenience is a priority for many patients when it comes to their healthcare, according to a study by the Medical Group Management Association (MGMA). Giving patients access to an online patient portal enables them to stay engaged in their health. But simply offering a boiler plate portal may not be enough. If your portal doesn't give patients what they need, they may look elsewhere. Patients report more satisfaction with their healthcare providers when online portals give them access to lab work, imaging results, immunization history, online appointment scheduling, online billing, prescription refill requests, and message centers. When portals allow patients to manage their health in these ways, they have more trust in their doctors and more confidence in their relationship; they're also more likely to make follow-up appointments and stay in touch. Make sure your patients feel like they are a partner in their healthcare by responding to their messages in a timely manner and providing them with a portal that's intuitive and easy to use.


Patients spend too much time waiting.

Patients wait an average of 20 minutes before seeing their doctor; this number applies to all specialties and areas of the country. And while those minutes tick by, your patient is getting more impatient. According to another MGMA survey, almost 20% of patients have changed providers due to long wait times. And practices with longer wait times tend to be rated much lower in patient satisfaction. While sometimes wait times cannot be helped, there's a lot you can do to ensure patients are seen as soon as possible. Utilizing non-physician clinicians like nurse practitioners and physician assistants for routine visits can give you more time to spend with the patients who need your focused attention. Responding quickly to patient questions or requests on an online portal can give them the answers they need without coming in for an appointment. And asking patients to fill out paperwork prior to their appointments can help speed up the flow of appointments.

Patients feel like they're just another number.

Your bedside manner is crucial to helping a patient stay on top of their health⁠—and stay committed to your practice. When a patient doesn't feel listened to or respected, they won't want to return. Improve the patient experience by asking them lots of questions, conducting a thorough physical exam, and spending time explaining your reasoning behind treatment decisions. Studies show patients value physicians who keep them informed about their conditions, so always involve the patient in their health. Make sure their treatment plan is realistic for their lifestyle; if not, work with them to make adjustments and find out what support they need to stay on track. Bedside manner extends to your staff, as well–make sure your receptionists, nurses, PAs, and other employees treat your patients with respect and take patient questions and concerns seriously. If you notice your staff isn't as friendly or compassionate as you'd like, consider the factors behind their behavior. Are they burned out? Do they feel appreciated and respected in your practice? Treating your staff well will trickle down to improve your patients' experiences.


You're not staying top of mind.

Most practices know the importance of communicating regularly with patients, but social media and the changing healthcare landscape demand that physicians do more than just send out appointment reminders and birthday notes. Boost your medical marketing strategy by maintaining an active social media presence. Encourage your patients to like and follow your channels, and post frequently to keep them engaged. Consider sending out a monthly newsletter with news of your practice and timely health information; you might even want to try writing a blog on your practice website to help patients get to know you better.


Your patients are surprised when they see their bill.

No one likes getting an unexpected bill, and medical costs can be hard to predict. Patients will likely leave your office with a bad taste in their mouths if they're presented with a high charge they weren't prepared for. Offering patients information about their potential costs upfront can go a long way in increasing their trust in your practice. But a lack of transparency can lead to a negative patient experience. Make sure to tell patients about any unexpected costs they might incur due to a procedure or imaging tests. Check that their insurance covers the therapy you're providing. And do your best to explain healthcare costs as clearly as possible so patients can understand them and make informed decisions.

Acquiring new patients can cost your practice seven times more than keeping existing ones, which is why it's so important to keep patients satisfied with your care. Assess what your practice provides your patients and try a few different strategies to keep them coming back.
Was this helpful?