3 Tips for a Successful Multiple Sclerosis Telehealth Consult
Was this helpful?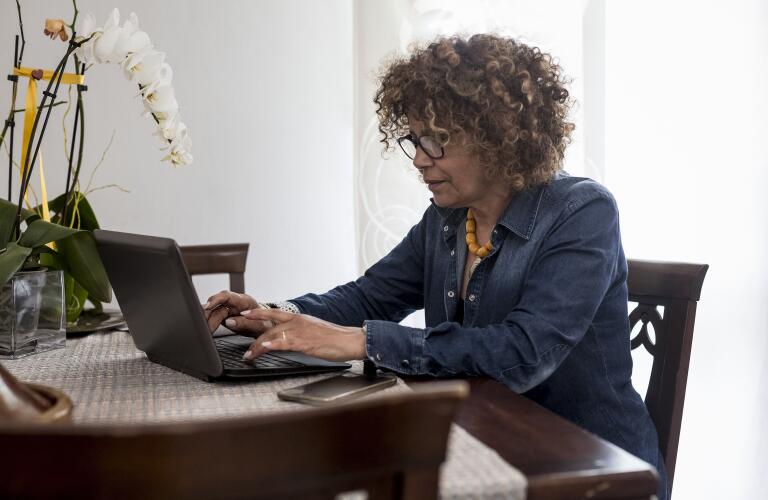 As a neurologist specializing in treating patients with multiple sclerosis (MS), I often meet people during a period of uncertainty in their lives, as they are confronted with a new diagnosis of a chronic medical condition. My goal as a physician is to help my patients find the right course of treatment so they are able to continue doing the things they enjoy most in life for many years to come. Getting to know my patients over time is immensely rewarding. But of course, in-person visits aren't always possible–a problem which has only been exacerbated by the COVID-19 pandemic. My colleagues and I quickly integrated telehealth visits into our practice as a means to provide patients with continued care while minimizing the risk of infection. I know our patients have appreciated the opportunity to connect with us over telehealth, and it's been a really positive experience for all involved.
For providers looking to integrate telehealth into part of their practice, here's what I've learned through my experience:
1. Approach the visit just like you would an in-person appointment.
Approaching a virtual visit as you would an in-person consult is critical to a positive patient experience and effectively utilizing your limited time with your patient. This is especially true if the patient is new to telehealth. Even though we can't examine patients the same way during a telehealth appointment as we can in the office, there are still opportunities to get a good assessment of the patient virtually. Reviewing any changes to their medications and medical history, and discussing symptoms or concerns related to their MS does not change with a virtual visit. A medical plan and follow-up can also still be executed effectively during these appointments.
2. Educate patients on how to prepare for their virtual visit.
I encourage patients to prepare for a telehealth visit similarly to the way they would prepare for a normal in-person visit. That includes preparing a list of medications, any changes to their medical history, and any concerns they would like to discuss during our appointment. With telehealth in mind, I tell patients to have their devices charged, to make sure they have the correct apps and programs installed on their phone or computer, and to find a quiet, private space for their call with reliable internet service. It is also important to make sure the medical staff that assists patients with these visits are also comfortable with the telehealth tools. We do our best to reach out to our patients before their telehealth visit so that all the technical kinks can be worked out and we can minimize any barriers to the appointment. The staff at our center do a great job of walking our patients through the process step by step so they are ready to go at the time of their appointment.
3. Choose the right telehealth platform.
The logistics of telehealth can be challenging in some cases, since not every person has access to a private location or good internet service. In addition, some patients aren't the most comfortable with computers or smart phones and may feel intimidated using telehealth platforms. But it's been my experience that patients who may have been initially concerned about these visits felt much more comfortable with these tools during their follow-up appointments. We saw their confidence and comfort level grow substantially over the past year. Our center offers several different telehealth platforms, which is helpful for patients who have may have difficulty with a specific platform. For providers trying to find the best program, patient security, stability, and user-friendliness should be top priorities for any tool they are considering.
I think we're going to see telehealth become a routine part of MS management moving forward. Although there's no replacement for in-person examinations, a healthy mix of both in-person and telehealth visits is an ideal situation that allows us to provide high quality and consistent care to our patients.
Was this helpful?