Lisinopril TABLET
Get an overview of LISINOPRIL (tablet), including its generic name, formulation (i.e. pill, oral solution, injection, inhaled medicine) and why it's used. The medication in Lisinopril can be sold under different names.

Refer to the "Also Known As" section to reference different products that include the same medication as Lisinopril.
Brand Name: Lisinopril
Generic Name: LISINOPRIL
Drug Type: HUMAN PRESCRIPTION DRUG
Route: ORAL
Dosage Form: TABLET
Data Current As Of: 2018-11-26
When pregnancy is detected, discontinue lisinopril as soon as possible [see WARNINGS AND PRECAUTIONS ( 5.1)] .
Drugs that act directly on the renin-angiotensin system can cause injury and death to the developing fetus [see WARNINGS AND PRECAUTIONS ( 5.1)] .
Lisinopril tablet USP is indicated for the treatment of hypertension in adult patients and pediatric patients 6 years of age and older to lower blood pressure. Lowering blood pressure lowers the risk of fatal and non-fatal cardiovascular events, primarily strokes and myocardial infarctions. These benefits have been seen in controlled trials of antihypertensive drugs from a wide variety of pharmacologic classes.
Control of high blood pressure should be part of comprehensive cardiovascular risk management, including, as appropriate, lipid control, diabetes management, antithrombotic therapy, smoking cessation, exercise, and limited sodium intake. Many patients will require more than 1 drug to achieve blood pressure goals. For specific advice on goals and management, see published guidelines, such as those of the National High Blood Pressure Education Program's Joint National Committee on Prevention, Detection, Evaluation, and Treatment of High Blood Pressure (JNC).
Numerous antihypertensive drugs, from a variety of pharmacologic classes and with different mechanisms of action, have been shown in randomized controlled trials to reduce cardiovascular morbidity and mortality, and it can be concluded that it is blood pressure reduction, and not some other pharmacologic property of the drugs, that is largely responsible for those benefits. The largest and most consistent cardiovascular outcome benefit has been a reduction in the risk of stroke, but reductions in myocardial infarction and cardiovascular mortality also have been seen regularly.
Elevated systolic or diastolic pressure causes increased cardiovascular risk, and the absolute risk increase per mmHg is greater at higher blood pressures, so that even modest reductions of severe hypertension can provide substantial benefit. Relative risk reduction from blood pressure reduction is similar across populations with varying absolute risk, so the absolute benefit is greater in patients who are at higher risk independent of their hypertension (for example, patients with diabetes or hyperlipidemia), and such patients would be expected to benefit from more aggressive treatment to a lower blood pressure goal.
Some antihypertensive drugs have smaller blood pressure effects (as monotherapy) in black patients, and many antihypertensive drugs have additional approved indications and effects (e.g., on angina, heart failure, or diabetic kidney disease). These considerations may guide selection of therapy.
Lisinopril tablets USP may be administered alone or with other antihypertensive agents [see CLINICAL STUDIES ( 14.1)] .
Lisinopril tablet USP is indicated to reduce signs and symptoms of systolic heart failure [see CLINICAL STUDIES ( 14.2)] .
reduction of mortality in acute myocardial infarction
Lisinopril tablet USP is indicated for the reduction of mortality in treatment of hemodynamically stable patients within 24 hours of acute myocardial infarction. Patients should receive, as appropriate, the standard recommended treatments such as thrombolytics, aspirin and beta-blockers [see CLINICAL STUDIES ( 14.3)].
patient counseling information
NOTE: This information is intended to aid in the safe and effective use of this medication. It is not a disclosure of all possible adverse or intended effects.
Pregnancy
Advise pregnant women and females of reproductive potential of the potential risk to a fetus. Advise females of reproductive potential to notify their healthcare provider with a known or suspected pregnancy [see WARNINGS AND PRECAUTIONS ( 5.1) and USE IN SPECIFIC POPULATIONS ( 8.1)].
Angioedema
Angioedema, including laryngeal edema may occur at any time during treatment with angiotensin converting enzyme inhibitors, including lisinopril. Tell patients to report immediately any signs or symptoms suggesting angioedema (swelling of face, extremities, eyes, lips, tongue, difficulty in swallowing or breathing) and to take no more drug until they have consulted with the prescribing physician.
Lactation
Advise women not to breastfeed during treatment with lisinopril [see USE IN SPECIFIC POPULATIONS ( 8.2)].
Symptomatic Hypotension
Tell patients to report light-headedness especially during the first few days of therapy. If actual syncope occurs, tell the patient to discontinue the drug until they have consulted with the prescribing physician.
Tell patients that excessive perspiration and dehydration may lead to an excessive fall in blood pressure because of reduction in fluid volume. Other causes of volume depletion such as vomiting or diarrhea may also lead to a fall in blood pressure; advise patients accordingly.
Hyperkalemia
Tell patients not to use salt substitutes containing potassium without consulting their physician.
Hypoglycemia
Tell diabetic patients treated with oral antidiabetic agents or insulin starting an ACE inhibitor to monitor for hypoglycaemia closely, especially during the first month of combined use [see DRUG INTERACTIONS ( 7.2)] .
Leukopenia/Neutropenia
Tell patients to report promptly any indication of infection (e.g., sore throat, fever), which may be a sign of leukopenia/neutropenia.
Manufactured for:
Lupin Pharmaceuticals, Inc.
Baltimore, Maryland 21202
United States.
MADE IN INDIA
Revised: October 2017 ID#: 253314
LISINOPRIL TABLETS USP
5 mg
Rx Only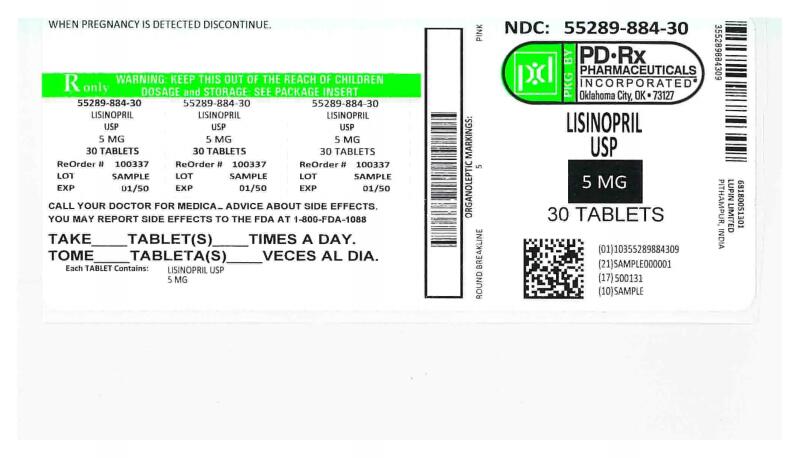 This drug label information is as submitted to the Food and Drug Administration (FDA) and is intended for informational purposes only. If you think you may have a medical emergency, immediately call your doctor or dial 911. You are encouraged to report negative side effects of prescription drugs to the FDA. Visit the FDA MedWatch website or call 1-800-FDA-1088.
Search Drugs and Medication
Or Browse by Name