CapCof Codeine Phosphate, Phenylephrine Hydrochloride, Chlorpheniramine Maleate
Get an overview of CAPCOF (codeine phosphate, phenylephrine hydrochloride, chlorpheniramine maleate liquid), including its generic name, formulation (i.e. pill, oral solution, injection, inhaled medicine) and why it's used. The medication in CapCof can be sold under different names.

Refer to the "Also Known As" section to reference different products that include the same medication as CapCof.
Brand Name: CapCof
Generic Name: CODEINE PHOSPHATE, PHENYLEPHRINE HYDROCHLORIDE, CHLORPHENIRAMINE MALEATE
Drug Type: HUMAN OTC DRUG
Route: ORAL
Dosage Form: LIQUID
Data Current As Of: 2020-03-16
Active ingredients
(in each 5 mL teaspoonful)
Chlorpheniramine Maleate 2 mg
Codeine Phosphate* 10 mg
*(WARNING: May be habit forming)
Phenylephrine Hydrochloride 5 mg
Antihistamine
Antitussive
Nasal Decongestant
Temporarily relieves these symptoms due to the common cold, hay fever (allergic rhinitis) or other upper respiratory allergies:
itching of the nose or throat
itchy, watery eyes
cough due to minor throat and bronchial irritation
nasal congestion
reduces swelling of nasal passages
Do not exceed recommended dosage.
if you are now taking a prescription monoamine oxidase inhibitor (MAOI) (certain drugs for depression, psychiatric, or emotional conditions, or Parkinson's disease), or for 2 weeks after stopping the MAOI drug. If you do not know if your prescription drug contains an MAOI, ask a doctor or pharmacist before taking this product.

ask a doctor before use if you have
ask a doctor or pharmacist before use if you are
taking sedatives or tranquilizers.
excitability may occur, especially in children
may cause marked drowsiness
avoid alcoholic drinks
alcohol, sedatives, and tranquilizers may increase the drowsiness effect
be careful when driving a motor vehicle or operating machinery
may cause or aggravate constipation
stop use & ask a doctor if
if pregnant or breast-feeding,
ask a health professional before use.
keep out of reach of children.
In case of overdose, get medical help or contact a Poison Control Center right away.
Do not exceed recommended dosage.
Adults and children
12 years of age
and over:

2 teaspoonfuls
(10 mL) every
4 hours, not to
exceed 12 teaspoonfuls
in 24 hours

.

Children 6 to under
12 years of age:




1 teaspoonful
(5 mL) every
4 hours,
not to exceed
6 teaspoonfuls in
24 hours.

Children under
6 years of age:
Consult a doctor
A special measuring device should be used to give an accurate dose of this product to children under 6 years of age. Giving a higher dose than recommended by a doctor could result in serious side effects for your child.
Store at 59° - 86°F (15° - 30°C)
Citric Acid, Cotton Candy Flavor, Glycerin, Propylene Glycol, Purified Water, Sodium Citrate, Sodium Saccharin, Sorbitol.
capcof 16 fl oz. (473 ml) bottle label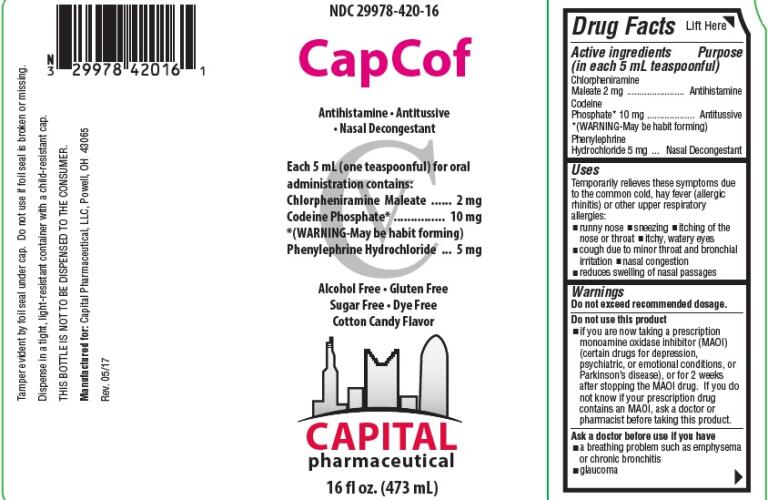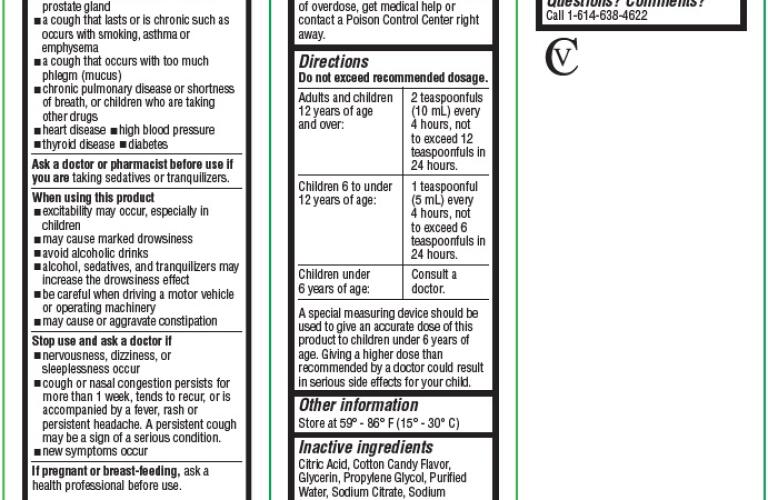 This drug label information is as submitted to the Food and Drug Administration (FDA) and is intended for informational purposes only. If you think you may have a medical emergency, immediately call your doctor or dial 911. You are encouraged to report negative side effects of prescription drugs to the FDA. Visit the FDA MedWatch website or call 1-800-FDA-1088.
Search Drugs and Medication
Or Browse by Name