Assist II Anorectal (Hemorrhoidal) Benzocaine
Get an overview of ASSIST II ANORECTAL (HEMORRHOIDAL) (benzocaine liquid), including its generic name, formulation (i.e. pill, oral solution, injection, inhaled medicine) and why it's used. The medication in Assist II Anorectal (Hemorrhoidal) can be sold under different names.

Refer to the "Also Known As" section to reference different products that include the same medication as Assist II Anorectal (Hemorrhoidal).
Brand Name: Assist II Anorectal (Hemorrhoidal)
Generic Name: BENZOCAINE
Drug Type: HUMAN OTC DRUG
Route: TOPICAL
Dosage Form: LIQUID
Data Current As Of: 2018-11-15
Assist II Anorectal (Hemorrhoidal) Lotion
For the temporary relief of local discomfort associated with anorectal inflammation. For the temporary relief of pain, soreness, or burning.
If condition worsens or does not improve within 7 days, consult a doctor. Do not exceed the recommended daily dosage unless directed by a doctor. In case of bleeding, consult a doctor promptly. Do not put this product into the rectum by using fingers or any mechanical device or applicator. Certain persons can develop allergic reactions to ingredients in this product. If the symptom, swelling, pain, or other symptoms develop or increase, discontinue use and consult a doctor.
keep out of reach of children
Adults: When practical, cleanse the affected area with mild soap and warm water and rinse thoroughly. Gently dry by patting or blotting with toilet tissue or a soft cloth before application of this product. Apply up to 3 times daily.
Children Under 12 Years Of Age: Consult a doctor.
Ethanol, Benzyl Alcohol, Isopropyl Alcohol, Purified Water, Laureth 4, Tert-Butyl Alcohol, Brucine Sulfate.
Texas Electrolysis Supply
16627 Sealark Rd.
Houston, Texas 77062
Toll-Free: 1-800-626-6025
Internet: www.texaselectrolysisstore.com
Assist II Anorectal (Hemorrhoidal) Lotion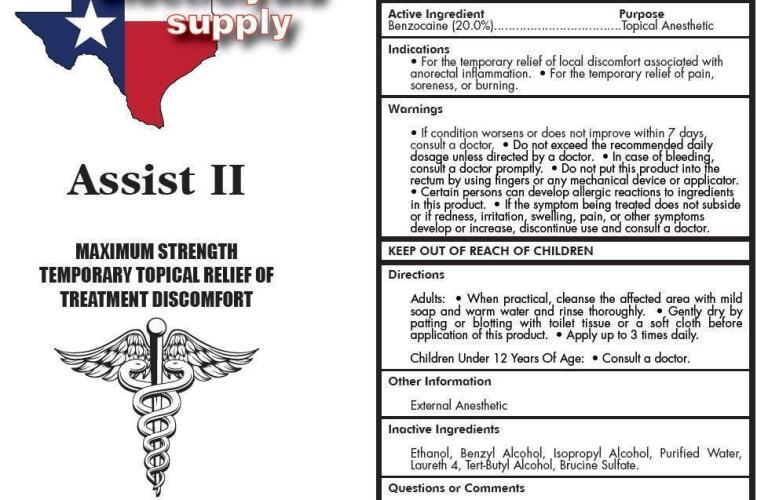 This drug label information is as submitted to the Food and Drug Administration (FDA) and is intended for informational purposes only. If you think you may have a medical emergency, immediately call your doctor or dial 911. You are encouraged to report negative side effects of prescription drugs to the FDA. Visit the FDA MedWatch website or call 1-800-FDA-1088.
Search Drugs and Medication
Or Browse by Name