Arestin - Dosage Minocycline Hydrochloride
ARESTIN (minocycline hydrochloride powder) comes in different strengths and amounts, which is referred to as the dosing of Arestin. The appearance of Arestin can differ based on the dosing.
ARESTIN is provided as a dry powder, packaged in a unit-dose cartridge with a deformable tip (see Figure 1), which is inserted into a spring-loaded cartridge handle mechanism (see Figure 2) to administer the product.
The oral health care professional removes the disposable cartridge from its pouch and connects the cartridge to the handle mechanism (see Figures 3 - 4). ARESTIN is a variable dose product, dependent on the size, shape, and number of pockets being treated. In US clinical trials, up to 122 unit-dose cartridges were used in a single visit and up to 3 treatments, at 3-month intervals, were administered in pockets with pocket depth of 5 mm or greater.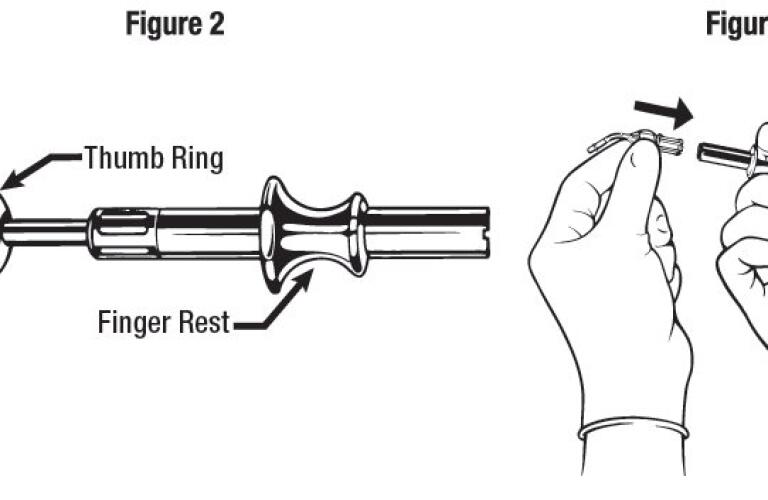 The administration of ARESTIN does not require local anesthesia. Professional subgingival administration is accomplished by inserting the unit-dose cartridge to the base of the periodontal pocket and then pressing the thumb ring in the handle mechanism to expel the powder while gradually withdrawing the tip from the base of the pocket. The handle mechanism should be sterilized between patients. ARESTIN does not have to be removed, as it is bioresorbable, nor is an adhesive or dressing required.
ARESTIN® (minocycline hydrochloride) microspheres, 1 mg is supplied as follows:
NDC 65976-100-01 1 unit-dose cartridge with desiccant in a heat-sealed, foil-laminated pouch
NDC 65976-100-24 12 unit-dose cartridges in 1 tray with desiccant in a heat-sealed, foil-laminated, resealable pouch. There are 2 pouches in each box.
Each unit-dose cartridge contains the product identifier "OP-1."
Store at 20° to 25°C (68° to 77°F)/60% RH: excursions permitted to 15° to 30°C (59° to 86°F). Avoid exposure to excessive heat.
This drug label information is as submitted to the Food and Drug Administration (FDA) and is intended for informational purposes only. If you think you may have a medical emergency, immediately call your doctor or dial 911. You are encouraged to report negative side effects of prescription drugs to the FDA. Visit the FDA MedWatch website or call 1-800-FDA-1088.
Search Drugs and Medication
Or Browse by Name