Anagrelide Hydrochloride CAPSULE
Get an overview of ANAGRELIDE HYDROCHLORIDE (capsule), including its generic name, formulation (i.e. pill, oral solution, injection, inhaled medicine) and why it's used. The medication in Anagrelide Hydrochloride can be sold under different names.

Refer to the "Also Known As" section to reference different products that include the same medication as Anagrelide Hydrochloride.
Brand Name: Anagrelide Hydrochloride
Generic Name: ANAGRELIDE HYDROCHLORIDE
Drug Type: HUMAN PRESCRIPTION DRUG
Route: ORAL
Dosage Form: CAPSULE
Data Current As Of: 2018-10-11
Anagrelide capsules USP are indicated for the treatment of patients with thrombocythemia, secondary to myeloproliferative neoplasms, to reduce the elevated platelet count and the risk of thrombosis and to ameliorate associated symptoms including thrombo-hemorrhagic events [see Clinical Studies (14), Dosage and Administration (2)].
patient counseling information
Dose:

Tell the patient that their dose will be adjusted on a weekly basis until they are on a dose that lowers their platelets to an appropriate level. This will also help the patient to adjust to common side effects. Tell the patient to contact their doctor if they experience tolerability issues, so the dose or dosing frequency can be adjusted [see Dosage and Administration (2)].

Cardiovascular effects:

Tell the patient to contact a doctor immediately if they experience chest pain, palpitations, or feel their heartbeat is irregular [see Warnings and Precautions (5.1)].

Risk of bleeding:

Warn the patient that concomitant aspirin (or other medicines that affect blood clotting) may increase the risk of bleeding. Tell the patient to contact a doctor immediately if they experience signs or symptoms of bleeding (e.g. vomit blood, pass bloody or black stools) or experience unexplained bruising/bruise more easily than usual [see Warnings and Precautions (5.2), Drug Interactions (7.1)].
Manufactured For:
TEVA PHARMACEUTICALS USA, INC.
North Wales, PA 19454
Rev. I 7/2015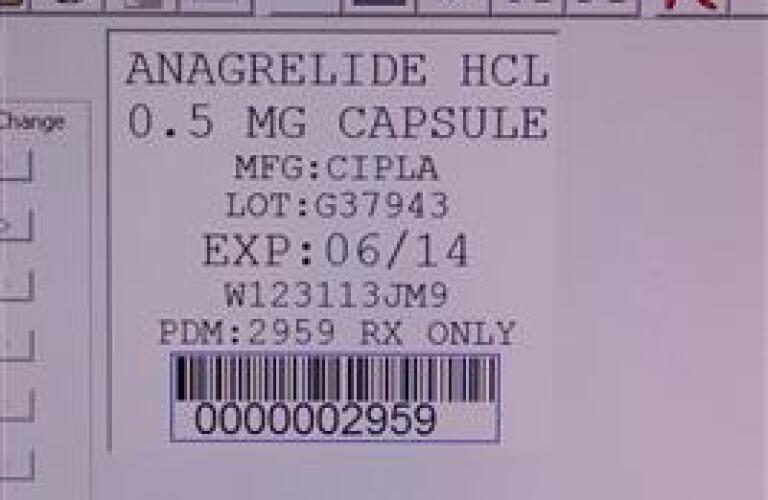 This drug label information is as submitted to the Food and Drug Administration (FDA) and is intended for informational purposes only. If you think you may have a medical emergency, immediately call your doctor or dial 911. You are encouraged to report negative side effects of prescription drugs to the FDA. Visit the FDA MedWatch website or call 1-800-FDA-1088.
Search Drugs and Medication
Or Browse by Name