Alodox Doxycyline Hyclate
Get an overview of ALODOX (doxycyline hyclate tablet), including its generic name, formulation (i.e. pill, oral solution, injection, inhaled medicine) and why it's used. The medication in Alodox can be sold under different names.

Refer to the "Also Known As" section to reference different products that include the same medication as Alodox.
Brand Name: Alodox
Generic Name: DOXYCYLINE HYCLATE
Drug Type: HUMAN PRESCRIPTION DRUG
Route: ORAL
Dosage Form: TABLET
Data Current As Of: 2019-03-11
To reduce the development of drug-resistant bacteria and maintain the effectiveness
of Doxycycline Hyclate Tablets and other antibacterial drugs, Doxycycline Hyclate
Tablets should be used only to treat or prevent infections that are proven or strongly
suspected to be caused by susceptible bacteria. When culture and susceptibility
information are available, they should be considered in selecting or modifying
antibacterial therapy. In the absence of such data, local epidemiology and
susceptibility patterns may contribute to the empiric selection of therapy.
Doxycycline hyclate is indicated for use as an adjunct to scaling and root planing to
promote attachment level gain and to reduce pocket depth in patients with adult
periodontitis.
This drug is contraindicated in persons who have shown hypersensitivity to
doxycycline or any of the other tetracyclines.
information for patients:
Patients should be counseled that antibacterial drugs
including Doxycycline Hyclate Tablets should only be used to treat bacterial
infections. They do not treat viral infections (e.g., the common cold). When
Doxycycline Hyclate Tablets are prescribed to treat a bacterial infection, patients
should be told that although it is common to feel better early in the course of therapy,
themedication should be taken exactly as directed. Skipping doses or notcompleting the full course of therapy may (1) decrease theeffectiveness of the immediate treatment and (2) increase thelikelihood that bacteria will develop resistance and will not betreatable by Doxycycline Hyclate Tablets or other antibacterial drugsin the future.
Because tetracyclines have been shown to depress plasma
prothrombin activity, patients who are on anticoagulant therapy may require
downward adjustment of their anticoagulant dosage.
Since bacterial antibiotics, such as the tetracycline class of antibiotics, may interfere
with the bactericidal action of members of the '-lactam (e.g., penicillin) class of
antibiotics, it is not advisable to administer these antibiotics concomitantly.
Absorption of tetracyclines is impaired by antacids containing aluminum, calcium, or
magnesium, and iron-containing preparations, and by bismuth subsalicylate.
Barbiturates, carbamazepine, and phenytoin decrease the half-life of doxycycline.
The concurrent use of tetracycline and methoxyflurane has been reported to result
in fatal renal toxicity.
Concurrent use of tetracyclines may render oral contraceptives less effective.
drug & or laboratory test interactions:
False elevations of urinary catecholamine
levels may occur due to interference with the fluorescence test.
Teratogenic Effects: Pregnancy Category D. (See WARNINGS
Section). Results from animal studies indicate that doxycycline crosses the placenta
and is found in fetal tissues.
The effect of tetracyclines on labor and delivery is unknown.
Tetracyclines are excreted in human milk. Because of the
potential for serious adverse reactions in nursing infants from doxycycline, the use
of doxycycline hyclate in nursing mothers is contraindicated. (See WARNINGS
Section).
Pediatric Use: The use of doxycycline hyclate tablets in infancy and childhood is contraindicated. (See WARNINGS Section).
The following adverse reactions have been
observed in patients receiving tetracyclines:
Gastrointestinal: anorexia, nausea, vomiting, diarrhea, glossitis, dysphagia,
enterocolitis, and inflammatory lesions (with vaginal candidiasis) in the anogenital
region. Hepatotoxicity has been reported rarely. Rare instances of esophagitis and
esophageal ulcerations have been reported in patients receiving the capsule forms
of the drugs in the tetracycline class. Most of these patients took medications
immediately before going to bed. (See DOSAGE AND ADMINISTRATION Section).
Skin: maculopapular and erythematous rashes. Exfoliative dermatitis has been
reported but is uncommon. Photosensitivity is discussed above. (See WARNINGS
Section).
Renal toxicity: Rise in BUN has been reported and is apparently dose related. (See
WARNINGS Section).
Hypersensitivity reactions: urticaria, angioneurotic edema, anaphylaxis,
anaphylactoid purpura, serum sickness, pericarditis, and exacerbation of systemic
lupus erythematosus.
Blood: Hemolytic anemia, thrombocytopenia, neutropenia, and eosinophilia have
been reported.
In case ofoverdosage, discontinue medication, treat symptomatically and institutesupportive measures. Dialysis does not alter serum half-life and thuswould not be of benefit in treating cases of overdose.
THE DOSAGE OF DOXYCYCLINE HYCLATE TABLETS DIFFERS FROM THAT
OF DOXYCYCLINE USED TO TREAT INFECTIONS. EXCEEDING THE
RECOMMENDED DOSAGE MAY RESULT IN AN INCREASED INCIDENCE OF
SIDE EFFECTS INCLUDING THE DEVELOPMENT OF RESISTANT
MICROORGANISMS.
Doxycycline hyclate tablets 20 mg twice daily as an adjunct following scaling and
root planing may be administered for up to 9 months. Doxycycline hyclate tablets
should be taken twice daily at 12 hour intervals, usually in the morning and evening.
It is recommended that if doxycycline hyclate tablets is taken close to meal times,
allow at least one hour prior to or two hours after meals. Safety beyond 12 months
and efficacy beyond 9 months have not been established. Administration of adequate amounts of fluid along with the tablets is recommended
to wash down the drug and reduce the risk of esophageal irritation and ulceration.
(See ADVERSE REACTIONS Section).
Doxycycline hyclate tablets USP equivalent to 20 mg of doxycycline, round, white,
unscored, film coated tablet, debossed MP 573 on one side and blank on the other
side.
Bottles of 60 NDC 54799-533-60
Store at 20° to 25°C (68° to 77°F)
[See USP Controlled Room Temperature]
DISPENSE IN A TIGHT, LIGHT-RESISTANT CONTAINER.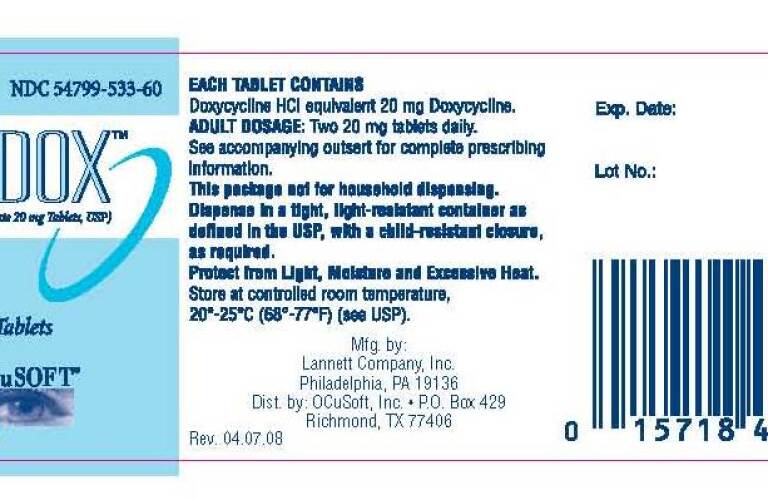 This drug label information is as submitted to the Food and Drug Administration (FDA) and is intended for informational purposes only. If you think you may have a medical emergency, immediately call your doctor or dial 911. You are encouraged to report negative side effects of prescription drugs to the FDA. Visit the FDA MedWatch website or call 1-800-FDA-1088.
Search Drugs and Medication
Or Browse by Name