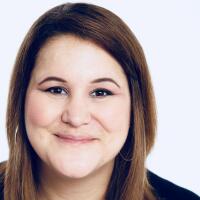 Christine Moore
Senior Content Strategist
Christine Moore is a senior digital content strategist, editor and writer for Healthgrades with more than 20 years' experience in digital media.
In her role, she oversees the development of editorial titles covering a diverse range of health topics, with a goal of providing readers with clear, actionable health information. Christine particularly enjoys collaborating with writers to ensure content is on point, on brand, and error-free.
Working with the vice president of editorial and managing editor, Christine provides directional strategy for content formats, topics, site promotion, content marketing, and social integration. She also evaluates and communicates content performance metrics to the editorial team and related departments.
Prior to joining Healthgrades, Christine started her career at Cartoon Network Digital as a writer, producer and associate creative director. Outside of work, she blogs at christinemoorewriter.com and has contributed to Paste magazine and ArtsATL.com. A graduate of Northwestern University's Medill School of Journalism, Christine lives with her husband and son in Decatur, Ga.