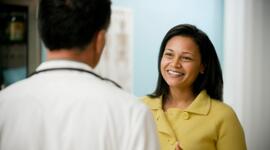 Relax - it's almost impossible to shock your doctor.

What is laparoscopy?
Laparoscopy is a surgical technique that allows your surgeon to diagnose and treat many diseases and conditions of the chest, abdomen and pelvis with a laparoscope. A laparoscope is a long, thin camera that transmits pictures of the inside of your body to a video screen viewed by the surgeon. It is inserted through a small incision, typically ½ to 1 cm long. Special surgical tools are inserted through the laparoscope or through other small incisions.
Laparoscopy, also known as laparoscopic surgery, is a type of minimally invasive surgery. This involves making small incisions instead of the large one needed for open surgery. In laparoscopy, surgical tools are threaded through the smaller incisions and around tissues instead of cutting through them. This generally results in a quicker recovery and less pain than open surgery.
Laparoscopy still has risks and potential complications. You may have less invasive treatment options. Consider getting a second opinion about all of your treatment choices before having a laparoscopy.
Other surgical procedures that may be performed
Your surgeon may perform a biopsy during laparoscopy. A biopsy is the removal of a sample of cells or tissue to test for cancer and other diseases.
You may need open surgery if your surgeon finds an extensive or unexpected problem during laparoscopic surgery. Open surgery is performed by making a longer incision that allows your surgeon to directly view and access the surgical area.
Medical Reviewers: Daphne E. Hemmings, MD, MPH
Last Review Date: Jul 12, 2013
© 2015 Healthgrades Operating Company, Inc. All rights reserved. May not be reproduced or reprinted without permission from Healthgrades Operating Company, Inc. Use of this information is governed by the Healthgrades User Agreement.

View Sources
Medical References
Advanced Urologic Laparoscopy. Urologic Institute of NJ. http://www.urologicinstituteofnj.com/laparoscopy.html. Accessed June 14, 2013.
Laparoscopic Pancreatic surgery. Center for Pancreatic and Biliary Diseases, University of Southern California. http://www.surgery.usc.edu/divisions/tumor/pancreasdiseases/web%20pages/pancreas%20resection/LAP%20PANCREATIC%20SURGERY.html. Accessed June 14, 2013.
Laparoscopic Surgery for Digestive Diseases. Cleveland Clinic. http://my.clevelandclinic.org/services/laparoscopic_surgery/dd_overview.aspx. Accessed June 14, 2013.
Laparoscopy. The American Congress of Obstetricians and Gynecologists (ACOG). http://www.acog.org/~/media/For%20Patients/faq061.pdf?dmc=1&ts=20130614T1314372749. Accessed June 14, 2013.
Patient Information for Laparoscopic Spleen Removal (Splenectomy) from SAGES. Society of American Gastrointestinal and Endoscopic Surgeons (SAGES). http://www.sages.org/publications/patient-information/patient-information-for-laparoscopic-spleen-removal-splenectomy-from-sages/. Accessed June 14, 2013.
Pile, JC. Evaluating postoperative fever: A focused approach. Cleveland Clinic Journal of Medicine. 2006;73 (Suppl 1):S62. http://ccjm.org/content/73/Suppl_1/S62.full.pdf. Accessed June 14, 2013.