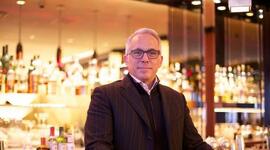 Celebrity chef Geoffrey Zakarian offers helpful tips for navigating the restaurant scene.
What is fundoplication?
Fundoplication is a surgery to treat gastroesophageal reflux disease (GERD). GERD occurs when the muscles of the esophagus do not close the opening to the stomach tightly enough. This causes reflux in which stomach contents back up into the esophagus. Fundoplication involves wrapping the upper part of the stomach around the bottom of the esophagus to tighten the stomach opening.
Fundoplication is also known as anti-reflux surgery or acid reflux surgery. Reflux can cause chronic heartburn, vomiting, coughing and wheezing. Fundoplication can lessen or fully prevent reflux. It may be an option for you if medications and lifestyle changes have not improved reflux.
Fundoplication is a common but major surgery with significant risks and potential complications. You may have less invasive treatment options. Consider getting a second opinion about all of your treatment choices before having fundoplication.
Medical Reviewers: Daphne E. Hemmings, MD, MPH
Last Review Date: Jul 13, 2013
© 2015 Healthgrades Operating Company, Inc. All rights reserved. May not be reproduced or reprinted without permission from Healthgrades Operating Company, Inc. Use of this information is governed by the Healthgrades User Agreement.