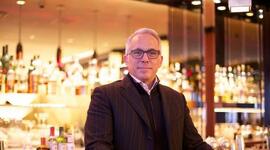 Celebrity chef Geoffrey Zakarian offers helpful tips for navigating the restaurant scene.

What is an enema?
An enema is the insertion of a liquid into the rectum or colon by way of the anus. The colon, also called the large intestine or large bowel, is a long, hollow organ in your abdomen. It plays an important role in digestion by removing water from digested material and forming feces (stool). Your doctor may recommend an enema for therapeutic or diagnostic purposes.
An enema is only one method used to diagnose or treat diseases and conditions of the colon and rectum. Discuss all the diagnostic and treatment options with your doctor to understand which options are right for you.
Types of enema
The types of enema include:
Therapeutic enema is an enema that cleans out the colon or rectum, relieves constipation, or treats diseases, such as inflammatory bowel disease (Crohn's and ulcerative colitis).
Diagnostic enema is an enema that helps diagnose certain conditions of the colon or rectum, including abdominal pain, bleeding symptoms, and ulcerative colitis. A barium enema is a diagnostic enema. Barium shows up well on X-rays and allows your doctor to see the colon in detail. Link barium enema to the Barium Enema procedure.
Medical Reviewers: Daphne E. Hemmings, MD, MPH
Last Review Date: Jul 12, 2013
© 2015 Healthgrades Operating Company, Inc. All rights reserved. May not be reproduced or reprinted without permission from Healthgrades Operating Company, Inc. Use of this information is governed by the Healthgrades User Agreement.

View Sources
Medical References
Enema. Merriam-Webster. http://www.merriam-webster.com/dictionary/enema. Accessed May 3, 2013.
Enema (mineral oil). Daily Med. http://dailymed.nlm.nih.gov/dailymed/drugInfo.cfm?id=25004. Accessed May 3, 2013.
Enemas. Encyclopedia of Nursing & Allied Health. http://www.enotes.com/enemas-reference/enemas-171956. Accessed May 3, 2013.
How To Give Your Child An Enema. University of Wisconsin. http://www.uwhealth.org/healthfacts/B_EXTRANET_HEALTH_INFORMATION-FlexMember-Show_Public_HFFY_1105110066042.html. Accessed May 3, 2013.