Dr. Shrader's Experience
Dr. Shrader's Care Philosophy
Specialties
Orthopedic Surgery
Sports Medicine
Joint Replacement & Reconstruction Orthopedics
Orthopedic Hip Surgery
Orthopedic Knee Surgery
Orthopedic Shoulder & Elbow Surgery
Dr. Shrader says...
Achilles Tendon Reconstruction
Achilles Tendon Rupture Repair
ACL Surgery
Ankle Ligament Reconstruction
Anterior Approach Total Hip Replacement
Anterior Tibial Tendon Repair
Arthritic Shoulder Reconstruction
Arthroscopic Acromioplasty
Arthroscopic Glenoid Labrum Repair
Arthroscopic Joint Reconstruction
Arthroscopic Joint Surgery
Arthroscopic Knee Shaving
Arthroscopic Labrum Repair
Arthroscopic Meniscus Repair
Arthroscopic Rotator Cuff Repair
Arthroscopic Shoulder Reconstruction
Arthroscopic Shoulder Repair
Arthroscopic Shoulder Surgery
Arthroscopic Surgery
Articular Cartilage Repair
Bicep Repairs
Bi-Compartmental Knee Replacement
Birmingham Hip Resurfacing
Bone and Joint Repair
Bone and Joint Replacement
Bone Grafting
Bone Regeneration Procedure
Bursa Injection
Bursal Drainage
More
Cartilage Implantation
Cartilage Regeneration
Cartilage Repair
Cartilage Transplant
Computer-Assisted Total Hip Replacement
Debridement
Elbow Fracture and Dislocation Treatment
Elbow Fracture and-or Dislocation Treatment, Closed
Elbow Ligament Reconstruction
Elbow Replacement
Excision of Femur or Knee
Fall Prevention and Safety Program
Fracture and-or Dislocation Treatment
Fracture Care
Fracture Open Reduction and Internal Fixation (ORIF)
Glenoid Labrum Repair
Hand and Wrist Fracture and Dislocation Treatment
Hand and Wrist Fracture Treatment, Closed
Hand and Wrist Fracture Treatment, Open
Hand or Wrist Tendon Transfer
Hemi (Half) Hip Replacement
Hip Arthroscopy
Hip Fracture and Dislocation Treatment
Hip Fracture and-or Dislocation Treatment, Closed
Hip Fracture and-or Dislocation Treatment, Open
Hip Reconstruction Surgery
Hip Replacement
Hip Replacement Revision
Hip Resurfacing
Hip Surgery
Image-Guided Hip Replacement
Image-Guided Knee Replacement
Injection of Tendon
Injection Therapy
Ischial Bursa Injection
Joint Drainage
Joint Resurfacing
Knee and Leg Fracture and Dislocation Treatment
Knee and Lower Leg Fracture Treatment, Closed
Knee and Lower Leg Fracture Treatment, Open
Knee Arthroscopy
Knee Cartilage Implantation
Knee Cartilage Repair
Knee Cartilage Treatment
Knee Debridement
Knee Dislocation Treatment
Knee Ligament Reconstruction
Knee Osteotomy
Knee Replacement
Knee Replacement Revision
Knee Resurfacing
Knee Surgery
Knee Tendon Repair
Kyphoplasty, Percutaneous
Ligament Reconstruction
Ligament Repair
MAKOplasty®
Mini Knee Surgery
Mini-Incision Hip Surgery
Minimally Invasive Hip Replacement
Minimally Invasive Hip Surgery
Minimally Invasive Joint Surgery
Minimally Invasive Knee Replacement
Minimally Invasive Total Hip Replacement
Minimally Invasive Total Joint Replacement
MRI (Magnetic Resonance Imaging)
Muscle Problem Surgery
Nerve Block, Somatic
Partial Knee Replacement
Percutaneous Tibial Nerve Stimulation (PTNS)
Peripheral Nerve Block
Physical Therapy
Platelet-Rich Plasma Injection (PRP)
Posterior Mini-Incision Total Hip Arthroplasty
Posterior Tibial Tendon Reconstruction
Posterior Tibial Tendon Repair
Resection or Ablation of Bone Tumor, Partial or Complete Resection of Bone, Debridement of Bone
Reverse Total Shoulder and Total Shoulder Replacement
Rotator Cuff and Labral Repair
Rotator Cuff Surgery
Shoulder Cartilage Treatment
Shoulder Fracture and Dislocation Treatment
Shoulder Reconstruction
Shoulder Replacement
Shoulder Resurfacing
Shoulder Stabilizations
Spinal Compression Fracture Repair
Steroid Injection
Synvisc® Injection
Tendon and Bursa Injection
Tendon Repair
Tendon Surgery
Total Joint Replacement
Total Shoulder Replacement
Tricep Repair
Trigger Point Injection
Unicompartmental Hip Surgery
Uni-Compartmental Knee Replacement
Vascularized Fibular Graft Reconstruction
Viscosupplementation With Hyaluronate
Less
Dr. Shrader says...
Achilles Tendinitis
Achilles Tendon Contracture
Achilles Tendon Injuries
Achilles Tendon Rupture
Adhesive Capsulitis
Allergic Arthritis
Ankle Fracture
Ankle Ligament Rupture
Anterior Cruciate Ligament (ACL) Injuries
Anterior Cruciate Ligament (ACL) or Posterior Cruciate Ligament (PCL) Tear
Arthritis
Arthritis of the Ankle
Arthritis of the Elbow
Arthritis of the Shoulder
Autoimmune Diseases
Avulsion Fracture
Back Pain
Baker's Cyst
Bone Cancer
Bone Disorders
Bone Loss
Broken Arm
Bursitis
Calf Muscle Strain
Cartilage Damage
Cartilage Degeneration
Cartilage Disorders
Cartilage Tear
Cervical Spine Myelopathy
Clavicle Fracture
More
Climacteric Arthropathy
Colles' Fracture
Complex Fractures
Complications of Joint Prosthesis
Compound Fracture
Compression Fracture
Congenital Dislocation of Patella
Congenital Hip Dislocation
Congenital Short Femur
Crystal Arthropathy
Crystalline Arthritis
De Quervain's Disease
Degenerative Joint Disease in the Shoulder
Elbow Bursitis
Elbow Fracture
Elbow Injuries
Elbow Sprain
Enthesopathy of Hip (incl. Trochanteric Bursitis)
Extra-Articular Fracture
Femoral Acetabular Impingement
Femur Fracture
Foot Conditions
Fracture
Fractured Lower Leg
Glenoid Labrum Tear
Gout
Gouty Arthropathy
Hand Conditions
Hip Arthritis
Hip Bursitis
Hip Dislocation
Hip Dysplasia
Hip Dysplasia, Beukes Type
Hip Flexor Strain
Hip Fracture
Hip Injury
Hip Labral Tear
Hip Muscle Strain
Hip Pain
Hip Pointer Injuries
Hip Socket Injuries
Hip Sprain
Infectious Arthritis
Insufficiency Fracture
Internal Derangement of Knee
Intervertebral Disc Disease
Intra-Articular Fracture
Joint Clicking
Joint Disorders
Joint Effusion
Joint Fracture
Joint Pain
Joint Space Disease
Joint Stiffness
Joint Swelling
Knee Arthritis
Knee Deformity
Knee Dislocation
Knee Disorders
Knee Fracture
Knee Injuries
Knee Joint - Varus Deformity
Knee Ligament Injuries
Knee Ligament Rupture
Knee Pain
Knee Sprain
Knee Tendinitis
Lateral and Medial Epicondylitis (Tennis and Golf Elbow)
Lateral Collateral Ligament (LCL) Tear
Leg Fracture Above Knee (incl. Hip)
Leg Fracture Below Knee (incl. Ankle)
Ligament Disorders
Ligament Sprain
Ligament Tears
Lumbar Spine Fracture
Medial Collateral Ligament (MCL) Sprains and Tears
Medial Collateral Ligament (MCL) Tear
Meniscus Injuries
Meniscus Tear
Monoarthropathy
Neck Strain (incl. Whiplash Injury)
Neuropathic Arthropathy
Non-Unions and Malunions of Fractures
Osteoarthritis
Osteoarthritis of Ankle
Osteoarthritis of Elbow
Osteoarthritis of Hand or Wrist
Osteoarthritis of Hands
Osteoarthritis of Hip
Osteoarthritis of Hip and Thigh
Osteoarthritis of Knee
Osteoarthritis of Shoulder
Osteoarthropathy
Osteopenia
Osteoporosis-Like Fracture of the Hip
Patella Tendon Tears
Patellofemoral Pain Syndrome or Knee Pain
Pathologic Fracture
Pediatric Ankle Fractures
Pediatric Fractures
Pelvic Fracture
Peripheral Autonomic Neuropathy
Peripheral Nerve Disorders
Peroneal Muscular Atrophy
Polyarthropathy
Posterior Cruciate Ligament (PCL) Injuries
Posterior Tibial Tendonitis
Post-Infectious Reactive Arthropathy
Postoperative Hip Fracture
Post-Traumatic Arthritis
Pseudoarthrosis
Psoriatic Arthritis
Pyogenic Arthritis
Quadriceps Tendon Tears
Reiter's Syndrome (Reactive Arthritis)
Rheumatoid Arthritis
Rib Fracture
Rotator Cuff Injuries
Rotator Cuff Tear
Runner's Knee
Ruptured Tendon
Seronegative Arthritis
Shin Splints
Short Stature - Prognathism - Short Femoral Necks
Shoulder Diseases
Shoulder Dislocation
Shoulder Disorders
Shoulder Impingement Syndrome
Shoulder Instability
Shoulder Pain
Shoulder Tendinitis and Tenosynovitis
Simple Fractures
Spine Disorders
Sports Injuries
Sports Injuries of the Knee
Sprains and Strains (incl. Muscle Tear)
Sternum Fracture
Strain of Hamstring Muscle
Strain of Muscle and-or Tendon of Forearm
Strain of Tendon of Medial Thigh Muscle
Stress Fracture
Subacromial Bursitis
Systemic Chondromalacia
Tendon Disorders
Tendon Injuries
Tendonitis
Tennis Elbow (Lateral Epicondylitis)
Tibia Fracture
Torn Cartilage
Transient Arthropathy
Traumatic Arthropathy
Tricep Injuries
Tricep Muscle Strain
Trochanteric Bursitis
Upper Extremity Fracture
Wear and Tear Arthritis
Less
Background Check for Dr. Shrader
No malpractice history found for California.
No sanctions history found for the years that Healthgrades collects data.
No board actions found for the years that Healthgrades collects data.
Memberships & Professional Affiliations
Professional Affiliations
California Orthopaedic Association , Member

The California Orthopaedic Association is the largest statewide association representing orthopaedic surgeons in California. Orthopaedic surgeons evaluate and treat all types of musculoskeletal injuries and conditions. This includes surgical and non-surgical treatment of the spine, hip, knee, ankle, foot, shoulder, elbow and hand. The Association assists our members by providing continuing medical education and other resources that enhance their ability to provide high value quality health care.
Languages Spoken by Dr. Shrader & Staff
Healthgrades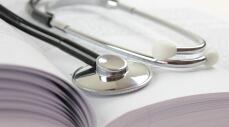 10 Steps to Pick the Right Doctor
Whether you need a primary care doctor or a specialist, these 10 steps will ensure you find the right doctor for you. View Slideshow