Healthgrades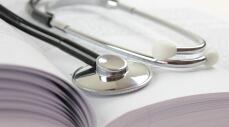 10 Steps to Pick the Right Doctor
Whether you need a primary care doctor or a specialist, these 10 steps will ensure you find the right doctor for you. View Slideshow
Dr. Salberg's Experience
Dr. Salberg's Care Philosophy
Specialties
Botox® for Blepharospasm
Botox® for Cervical Dystonia
Botox® for Chronic Migraine
Botox® for Upper Limb Spasticity
Botox® Injection
Nerve Block, Somatic
Non-Cosmetic Botox® Injection
Non-Cosmetic Chemodenervation
Occipital Nerve Block
Dr. Salberg says...
Acquired Brain Injuries
Acute Inflammatory Demyelinating Polyradiculoneuropathy
Acute Insomnia
Adult Spina Bifida
Adult-Onset Chorea
Advanced Sleep Phase Disorder
Alcoholic Neuropathy
Alcoholic Polyneuropathy
Aneurysm
Antalgic Gait
Asterixis (Flapping Tremor)
Ataxia
Ataxia With Fasciculations
Ataxia With Vitamin E Deficiency
Ataxia, Hereditary, Autosomal Dominant
Ataxia, Spastic, 3, Autosomal Recessive
Autoimmune Diseases
Autonomic Disorders
Autonomic Dysreflexia
Autonomic Neuropathy
Basilar Migraine
Bell's Palsy
Benign Exertional Headache
Benign Hereditary Chorea
Benign Paroxyzmal Vertigo of Childhood
Benign Positional Vertigo
Benign Sex Headache
Bilateral Stroke
Binswanger's Dementia
Brachial Neuritis
More
Brain and Nervous System Cancer (incl. Gliomas, Astrocytoma, Schwannoma, Medulloblastoma, Chordoma)
Brain Aneurysm
Brain Disorders
Brain Injury
Brainstem Strokes
Breathing-Related Sleep Disorders
Cancer
Carcinomatous Polyneuropathy
Carpal Tunnel Syndrome
Cataplexy
Central Sleep Apnea
Central Vestibular Vertigo
Cerebellar Ataxia
Cerebral Artery Thrombosis
Cerebral Palsy
Cerebral Vascular Disease
Cerebrovascular Disease
Cervicogenic Headache
Chiari's Deformity
Chorea (Excluding Huntington's Chorea)
Chronic Headache
Chronic Inflammatory Demyelinating Polyneuropathy
Chronic Inflammatory Demyelinating Polyradiculoneuropathy
Circadian Rhythm Sleep Disorder
Classic Migraine
Cluster Headache
Common Migraine
Complicated Migraine
Concussion
Congenital Motor Nystagmus
Congenital Neuropathy With Arthrogryposis Multiplex Congenita
Congenital Sensory Neuropathy With Neurotrophic Keratitis
Cough Headache
Cranial Neuralgia
Cranial Trauma
Craniospinal Trauma
Delayed Sleep Phase Disorder
Dementia
Demyelinating Polyneuropathy
Diabetic Neuropathy
Diabetic Polyneuropathy
Diplopia
Dizziness
Dorsal Neuralgia
Drug Rebound Headache
Drug-Induced Chorea
Drug-Induced Insomnia
Drug-Induced Parkinsonism
Dysphasic Dementia, Hereditary
Dystonia
Endogenous Insomnia
Epilepsy
Episodic Ataxia
Essential Tremor
Excessive Daytime Sleepiness
Eye Movement Disorders
Facioplegic Migraine
Familial Hemiplegic Migraine
Fatal Familial Insomnia
Fatigue
Febrile Convulsion
Friedreich's Ataxia
Frontotemporal Dementia
Gait Abnormality
Glossopharyngeal Neuralgia
Gluten Ataxia
Hand Neuropathy
Headache
Headache (incl. Migraine)
Headache-Free Migraine
Headaches (Shunt Related)
Hereditary Neuropathy With Liability to Pressure Palsies
Hydrocephalus
Hydrocephalus, Adult
Hydrocephalus, Child
Hypertension Headache
Icepick Headache
Idiopathic Parkinson's Disease
Infantile Sleep Apnea
Inflammatory and Toxic Neuropathy
Inflammatory Neuropathies
Insomnia
Insomnia With Sleep Apnea
Intercostal Neuralgia
Intervertebral Disc Disease
Intervertebral Disc Herniation
Irregular Sleep-Wake Pattern
Jet Lag
Juvenile Parkinson's Disease
Lewy Body Dementia
Low Back Pain
Lower Half Headache
Medication-Induced Postural Tremor
Meningiomas
Menstrual Migraine
Metabolic Neuropathy
Migraine
Migraine, Hormone-Induced
Migrainous Vertigo
Mild Headache
Motor Neuropathy
Multi-Infarct Dementia
Multiple Sclerosis (MS)
Muscle Contraction Headache
Muscular Dystrophy (MD)
Myasthenia Gravis
Myelopathy
Myoclonus
Myopathic Gait
Narcolepsy
Narcolepsy and Cataplexy
Nerve Diseases
Nerve Pain
Nerve Root Injury and Plexus Disorders (incl. Pinched Nerve)
Nerve Sheath Tumors
Neuralgia in the Upper Extremity
Neuritis
Neuritis With Brachial Predilection
Neuroleptic-Induced Parkinsonism
Neuromyelitis Optica
Neuropathy, Motor and Sensory
Neuropsychiatric Illness
Non-24-Hour Sleep-Wake Syndrome
Normal Pressure Hydrocephalus
Nystagmus
Obstructive Hydrocephalus
Occipital Neuralgia
Oculomotor Migraine
Opsoclonus Myoclonus
Optic Atrophy
Optic Atrophy, Autosomal Dominant
Optic Nerve Disorder
Optic Neuritis
Optic Neuropathy
Orthostatic Tremor
Parasomnias
Parkinsonism
Parkinson's Disease
Pediatric Attention Deficit (ADD)
Pediatric Chorea
Pediatric Sleep Disorders
Pediatric Spina Bifida
Pelvic Neuralgia
Peripheral Autonomic Neuropathy
Peripheral Nerve Disorders
Peripheral Neuritis
Peroneal Muscular Atrophy
Polymyositis
Polyneuritis
Polyneuropathy
Polyneuropathy Due to Alcohol and Drugs
Polyradiculoneuropathy
Post-Concussion Syndrome
Postherpetic Neuralgia
Post-Laminectomy Syndrome
Post-Traumatic Headache
Primary Insomnia
Primary Restless Leg Syndrome
Problem Sleepiness
Pseudotumor Cerebri
Psychogenic Headache
Psychophysiological Insomnia
Psycho-Reactive Insomnia
Radiculitis
Radiculopathy (Not Due to Disc Displacement)
Rapid-Onset Dystonia Parkinsonism (RDP)
Recurrent Headache
Reflex Sympathetic Dystrophy
REM Sleep Behavior Disorder
Restless Leg Syndrome
Retinal Migraine
Retrobulbar Neuropathy
Scissoring Gait
Scotoma
Secondary Insomnia
Secondary Restless Leg Syndrome
Seizure Disorders
Severe Headache
Shift Work Sleep Disorder
Sleep Apnea
Sleep Disorders
Sleep-Talking
Sleep-Walking
Spastic Gait
Spina Bifida
Spinal Bulbar Motor Neuropathy
Spinal Cord Injury
Spinal Stenosis
Spine Disorders
Spinocerebellar Ataxia
Spinocerebellar Ataxia With Axonal Neuropathy, Type 2
Spinocerebellar Ataxia, Autosomal Recessive, With Axonal Neuropathy
Steppage Gait
Stroke
Sydenham Chorea
Syncope
Syncope, Familial Neurocardiogenic
Temporal Arteritis
Tension Headache
Thrombosis
Tic Disorders
Torticollis
Tourette's Syndrome
Toxic Polyneuropathy Due to Acrylamide
Transient Ischemic Attack (TIA)
Traumatic Brain Injury
Tremor
Tremor Hereditary Essential, 1
Tremor Hereditary Essential, 2
Trigeminal Neuralgia
Ulnar Neuritis
Ulnar Neuropathy
Vascular Disease
Vascular Headache
Vascular Neuropathy
Vertigo
Vestibular Neuritis
Visual Field Defects
Visual Migraine
Less
Background Check for Dr. Salberg
No malpractice history found for Indiana.
No sanctions history found for the years that Healthgrades collects data.
No board actions found for the years that Healthgrades collects data.
Languages Spoken by Dr. Salberg & Staff