Healthgrades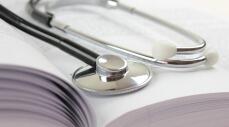 10 Steps to Pick the Right Doctor
Whether you need a primary care doctor or a specialist, these 10 steps will ensure you find the right doctor for you. View Slideshow
Dr. Sahm's Experience
Dr. Sahm's Care Philosophy
Specialties
General Surgery
Colon & Rectal Surgery
Surgery
Wound Care
Abdominal Surgery
Abscess Incision and Drainage
Adhesiolysis
Advanced Laparoscopic Surgery
Appendectomy, Laparoscopic
Appendectomy, Open
Aspiration of Breast Cysts
Biopsy of Breast
Bowel Resection
Bowel Surgery
Breast Exam
Breast Surgical Procedure
Colectomy
Colon and Rectal Surgery
Colon Cancer Screening
Colon Surgery
Colonoscopy With Polypectomy
Colonoscopy, Proctosigmoidoscopy, and Sigmoidoscopy
Colorectal Cancer Screening
Cyst Aspiration
Diagnostic Endoscopy
Dressing and-or Debridement of Wound, Infection, or Burn (incl. Negative Pressure Wound Therapy)
Endocrine Surgical Procedure
Enterostomy (Laparoscopic or Open)
Excision
Excision of Neck Mass
Excision of Skin Lesion
More
Exploratory Surgery
Fine Needle Aspiration
Fine Needle Aspiration Biopsy of Breast
Fine Needle Aspiration of Thyroid Nodules
Fistulectomy or Fistulotomy, Anal
Flexible Sigmoidoscopy
Gallbladder Removal (Cholecystectomy), Laparoscopic
Gallbladder Surgery
Gastric Tube Insertion
Gastroenterology Procedures
Gastrointestinal Surgery
Gastrointestinal Surgery, Laproscopic
Hemorrhoid Removal
Hemorrhoid Treatment
Hemorrhoidectomy or Excision of Anal Tags
Hernia and Hydrocele Repair
Hernia Repair
Incisional Hernia Repair, Laparoscopic
Inguinal Hernia Repair, Laparoscopic
Intestinal Transplant (incl. Enterectomy)
Laparoscopic Abdominal Surgery
Laparoscopic Anti-Reflux Surgery
Laparoscopic Colectomy
Laparoscopic Colon Surgery
Laparoscopic Endocrine Surgery
Laparoscopic Rectal Surgery
Laparoscopic Splenectomy
Laparoscopic Surgery for Achalasia
Laparoscopic Surgical Procedure
Laparoscopic Treatment for Colorectal Disease
Laparotomy
Liver Biopsy
Local Anesthesia
Lymph Node Biopsy or Excision
Minimally Invasive Surgery
Moderate Sedation
Mole Removal
Muscle Biopsy
Open Incisional and-or Ventral Hernia Repair
Partial Mastectomy
Percutaneous Edoscopic Gastrostomy (PEG)
Post-Operative Care
Removal of Reproductive Organs (Hysterectomy, Oophorectomy, Salpingectomy, Salpingo-Oophorectomy, Resection of Peritoneal Malignancy)
Removal or Destruction of Rectal or Intestinal Tumor (incl. Colonoscopy, Proctosigmoidoscopy, Sigmoidoscopy and Control of Hemorrhage)
Repair of Anal and Rectal Defects (Anoplasty, Repair of Imperforate Anus, Sphincteroplasty, Rectal Graft)
Rigid Sigmoidoscopy
Sentinel Node Biopsy
Sigmoidoscopy
Skin Biopsy
Skin Cancer Removal
Stereotactic Radiosurgery
Stereotaxis
Stitches
Surgery, Trauma
Suture Soft Tissue Wound
Suture Uncomplicated Lacerations
Temporal Artery Biopsy
Thyroid Fine Needle Aspiration Biopsy
Thyroid Surgery
Trigger Point Injection
Trigger Point Therapy
Tumor Ablation
Tumor Resection
Tumor Surgery
Wart Removal
Wound Care and Management
Less
Dr. Sahm says...
Abdominal Abscess
Abdominal Cancer
Abdominal Disorders
Abdominal Hernia
Abdominal Injuries
Abdominal Tumor
Abscess
Acute Appendicitis
Adenoma
Anal and Rectal Cancer
Anal Cancer
Anal Disorders
Anal Fissure
Anal Fistula
Anorectal Abscess
Appendicitis
Appendix Cancer
Appendix Disorders
Atypical Mole
Axillary Lymphadenopathy
Barrett's Esophagus
Benign Breast Disorders
Benign Diseases of the Bile Ducts
Benign Diseases of the Gallbladder
Biliary Dyskinesia
Breast Abscess
Breast Cancer
Breast Diseases
Breast Duct Papilloma
Breast Fibroadenoma
More
Breast Infections
Breast Tumor
Calculus of Common Bile Duct
Cancer
Carcinoid Tumor
Cellulitis
Chest Wall Tumor
Chronic Appendicitis
Chronic Constipation
Chronic Recurrent Abdominal Pain
Colorectal Cancer
Common Bile Duct Stone
Crohn's Disease
Cutaneous Squamous Cell Carcinoma
Digestive Disorders
Distal Colorectal Cancer
Distal Gastrointestinal Tract Cancers
Diverticular Diseases
Diverticulitis
Diverticulosis
Diverticulosis of the Ileum
Duodenal Ulcer
Endocrine Disorders
Esophageal Cancer
Esophageal Diseases
Esophageal Stricture
Esophageal Ulcer
Esophagitis
Fibroadenoma
Fibrocystic Breast Disease
Fissures
Fistula
Gallbladder Cancer
Gallbladder Diseases
Gallstones
Ganglion Cyst
Ganglion of Wrist
Gastointestinal Tract Tumors
Gastric Ulcer
Gastritis
Gastroenterologic Cancer (Colon, Stomach, Esophageal, Liver)
Gastroesophageal Reflux Disease (GERD)
Gastrointestinal Bleeding
Gastrointestinal Diseases
Gastrointestinal Perforation
Granuloma
Groin Hernia
Hematemesis
Hematochezia
Hemorrhoids
Hernia
Hiatal Hernia
Hyperthrophic Scar
Impacted Shoulders
Inflammatory Bowel Disease
Inflammatory Breast Cancer
Inguinal Hernia
Intestinal Abscess
Intestinal Cancer
Intestinal Diseases
Intestinal Fistula
Intestinal Obstruction
Intestinal Polyp
Invasive Breast Cancer
Invasive Candidiasis
Invasive Ductal Carcinoma
Invasive Lobular Carcinoma
Keloid Scar
Laceration
Lactocele
Large Bowel Obstruction
Lesion
Lipomas
Liver Abscess
Liver Cancer
Liver Diseases
Liver Diseases and Disorders
Liver Tumor
Lobular Carcinoma in Situ (LCIS)
Lump
Male Breast Cancer
Malignancy
Malignant Diseases of the Bile Ducts
Malignant Diseases of the Gallbladder
Malignant Neoplasm of Gastrointestinal Tract
Malignant Tumor
Mass
Mastitis
Melanoma
Metastatic Breast Cancer
Metastatic Skin Cancer
Metastatic Soft Tissue Cancer
Mole
Neoplasm of Gastrointestinal Tract
Nevi-Atrial Myxoma-Myxoid Neurofibromata-Ephelides
Nodular Basal Cell Carcinoma
Nodular Goiter
Nodular Melanoma
Papilloma
Paraesophageal Hernia
Parathyroid (Gland) Cancer
Parathyroid (Gland) Disease
Parathyroid Carcinoma
Peptic Ulcer
Pilonidal Cyst
Polyps
Rectal Abscess
Rectal Bleeding
Rectal Cancer
Rectal Diseases
Rectum Cancer
Retroperitoneal Abscess
Sebaceous Cysts
Secondary Malignancies
Secretory Breast Carcinoma
Seroma
Severe Constipation
Severe Diarrhea
Severe Heartburn
Skin Cancer
Small Intestine Diverticulosis
Squamous Cell Carcinoma
Stab Wound
Stomach and Small Intestine Cancer
Stomach Cancer
Swallowing Disorders
Thyroid Cancer
Thyroid Disease
Tubular Carcinoma
Tumor
Ulcer
Ulcer Perforation
Ulcerative Colitis
Warts
Wound Infection
Wounds
Less
Background Check for Dr. Sahm
Healthgrades does not collect malpractice information for Delaware.
No sanctions history found for the years that Healthgrades collects data.
No board actions found for the years that Healthgrades collects data.
Awards & Recognitions
Awards
BLS/ACLS/ATLS Certified
Trauma Resident of the Year, 2004
US Army Reserves-Major-Medical Corps
Basic Science Award, 2003,2004
Trauma Physician of the Year, 2009
Leslie Whitney Award for Cancer Research, 2004
Advanced Trauma Operative Management Course, 2004
Advanced Trauma Life Support Instructor
Basic Science Award, 2001, 2002
Alpha Omega Alpha Honor Society, 2000
National Pathology Honor Society-Presentation on Genetics of Breast Cancer, 1998
Media & Publications
Phlegmonous Gastritis and Group A Streptococcal Toxic Shock Syndrome in a Patient Following Functional Endoscopic Sinus Surgery, 6, 2010
Languages Spoken by Dr. Sahm & Staff